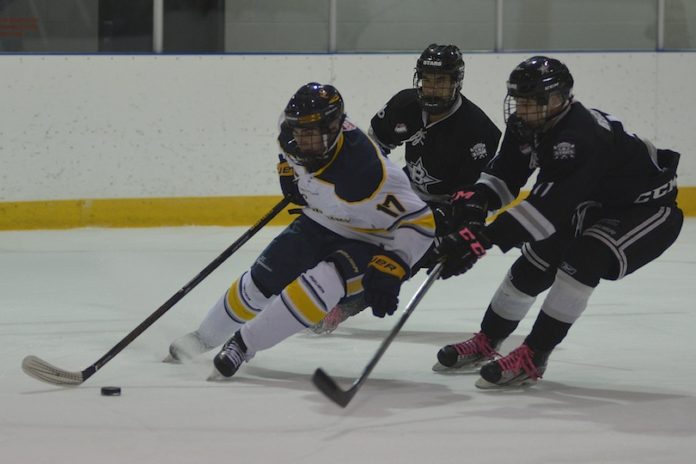 The Swift Current Home Hardware Legionnaires used a balanced attack to win both games over the Battlefords Stars in the Saskatchewan Midget AAA Hockey League over the weekend.
Saturday, the Legionnaires got 29 saves from Cody Levesque and goals from four different skaters in a 4-0 win.
Jacob Piller and Ty Muench each had a goal and an assist, while Owen Ozar and Beau Larson also scored. Rin Beny and Hunter Lamb each registered a pair of assists and Christian Riemer and Jerzy Orchard added single helpers as Levesque earned the shutout in goal.
Sunday, the Legionnaires got goals from four different players once again in a 4-2 comeback win. Jagger Prosofsky scored the winning goal with 5:30 remaining and Piller added an insurance goal 2:04 later.
Piller, Kersey Reich, and Owen Ozar all finished with a goal and an assist. Mason Strutt finished with two assists, followed by single helpers from Muench and Lamb.
Levesque made 16 saves on 18 shots to improve to 3-0 with a 1.50 goals against average.
"I have been feeling pretty good so far. I feel solid in there and I am just working on the same things in practice every day and go play my game," said the veteran goaltender.
The Legionnaires improved to 4-2 early in the SMAAAHL season.
"Yeah it was awesome," said Levesque. "It was nice to get the four points. My team played really good in front of me today, blocked lots of shots. It was real nice to come out ahead on the weekend."
"Today we blocked a lot of shots, which was really good in front of me. We were just putting lots of pucks to the net and kept generating scoring chances," added Levesque.
The Legionnaires are hoping to end a lengthy playoff drought this season.
"Yeah we have a lot of returning players this year. So we definitely want to make a push to make the playoffs this year. That's our main goal this year is to make the playoffs."
The Legionnaires have scored 20 goals and allowed only 14 through their first six games.
"We are just working from our defensive zone out. It is just kind of defense first and then try and work on getting some offense after," explained Levesque.
The Legionnaires are on the road this weekend to visit the Stars on Saturday and the Saskatoon Contacts on Sunday.