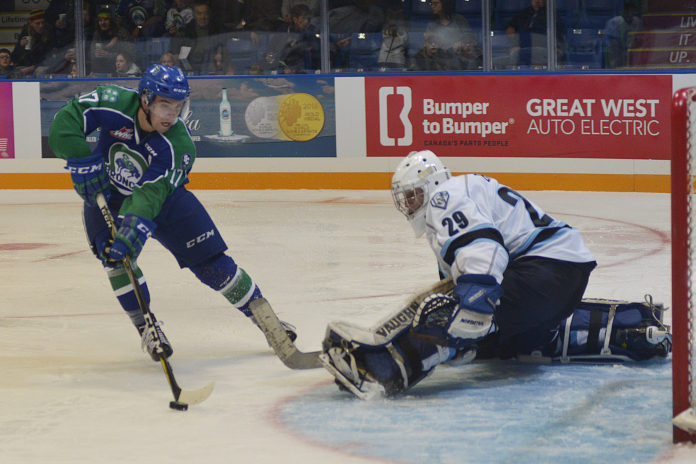 After four straight road wins to open the Western Hockey League regular season, the Swift Current Broncos won their home opener 5-2 in dominant fashion over the Kootenay Ice Saturday.
The Broncos got another four goals from their top line of Tyler Steenbergen, Glenn Gawdin, and Aleksi Heponiemi. Defenseman Colby Sissons added a goal and an assist.
Steenbergen scored the first two goals and now has 12 goals in five games to lead the WHL. Heponiemi added a goal and three assists and Gawdin posted a goal and an assist.
The Broncos finished two-for-five on the power play and killed off three shorthanded situations as their stellar special teams continued.
"We are pretty happy to come into our rink tonight and get a win for our fans," said head coach Manny Viveiros. "Always that first home game guys play a little bit nervous like the first game of the season. I thought the guys responded really well.
An announced crowd of 2,865 took in the home opener.
"It was unbelievable," said Steenbergen. "The fans were unreal again coming off last year's playoffs. They have been nothing but great for us. The atmosphere was unreal and hopefully we can keep it going all season."
Logan Flodell improved to 4-0-0-0 as a Broncos with 20 saves, while former Bronco Bailey Brkin allowed five goals in 34 shots to fall to 1–2-1-0 for the Ice.
The Broncos will be in Moose Jaw Sunday for a meeting of two 5-0 teams.
"We know we get a tough one tomorrow afternoon in Moose Jaw. They didn't play tonight and we are playing three in a row," said Viveiros.
The Broncos improved to 5-0-0-0, while Kootenay dropped to 2-4-1-0.
"Coming into the season we knew we were going to be good," said Steenbergen. "Obviously we are going to take going 5-0. We want to keep things rolling against Moose Jaw. It's going to be a tough test against them. They haven't lost yet either, so it's going to be a good game tomorrow."