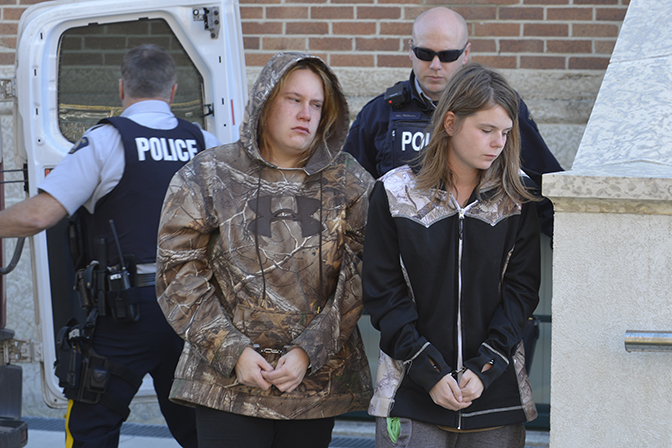 Two people facing second degree murder charges in relation to the 2016 death of Logan Ring were in Swift Current Provincial Court this morning.
Rebecca Lynn Kuhlman and Tanisha Lynn Perrault are both charged with one count of second degree murder. The matter was adjourned to November 8 when both will appear via video conference.
RCMP Major Crime Unit South reported that Rebecca Lynn Kuhlman, 25, was arrested without incident on Tuesday morning at a Swift Current residence.
Tanisha Lynn Perrault, 19, was arrested on Tuesday afternoon without incident, also at a city residence.
Both individuals were known to the victim.
The body of Logan Curtis Ring was located in the Saskatchewan Landing Provincial Park on November 17, and a homicide investigation has been underway since then.
"Logan Ring was located deceased in November of last year at Saskatchewan Landing Provincial Park and the "F" Division Major Crime Unit South has been working on this investigation since that time. We know there are people with more information about Logan's death and the time period leading up to it. We encourage these people to come forward and speak with police or call Crime Stoppers anonymously," explained Staff Sgt. Murray Chamberlin, "F" Division Major Crime Unit South.
RCMP are asking anyone with information about the following to contact police:
– traffic in and out of the park and parking lot at Saskatchewan Landing Provincial Park from November 14 to 17, 2016;
– any descriptions of people or vehicles observed in the area during that same time (including Logan's blue 1991 Ford Explorer);
– Logan Ring's activities and whereabouts prior to his death;
Individuals can contact:
Crime Stoppers: 1-800-222-8477
Swift Current Municipal RCMP: 306-778-4870
Swift Current Rural RCMP: 306-778-5550