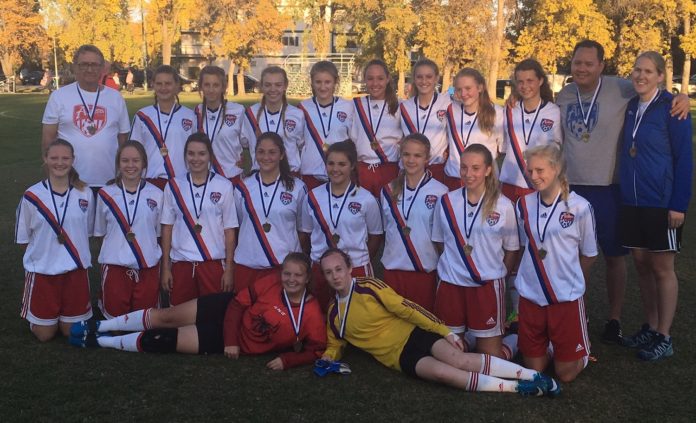 The Swift Current Comp. Ardens soccer team was in Prince Albert over the weekend where they won an eight-team tournament hosted by St. Mary High School.
The Ardens opened the event with a 12-0 win over Lloydminster's Holy Rosary. MJ Anderson led the Ardens with five goals and one assist, followed by two goals and one assist from captain Lauryn Hayes, a goal and two assists from Aleah Nickel, and three assists from Calli Moreau-Simpson. Rebecca Treen added a goal and an assist and Alison Wall had two assists. Cassie Barber, Jannae Carlson, and Kalea Sauder also scored. Jessica Warren added a single helper, while Juliana Whalen picked up the shutout in goal.
The Ardens took on the rival Prince Carlton Crusaders in the semi-final and advanced with a 2-1 overtime win. The Ardens trailed for most of regulation after allowing an early goal before Anderson scored late to force overtime. Barber scored with one minute remaining in the second overtime period, a nine versus nine five-minute frame, to lift the Ardens to the win. Nickel and Anderson assisted on the goals, while Jaden McKenzie earned the win in goal.
The Ardens dominated the championship match against the host St. Mary Marauders and escaped with a 2-1 win after a scoreless opening half. Hayes scored both goals with assists from Nickel and Carlson. McKenzie picked up her second straight win.
After playing 13 games in 15 days, the Ardens have a well-deserved week off from game action and then will be in Moose Jaw next Thursday for the league semi-final.