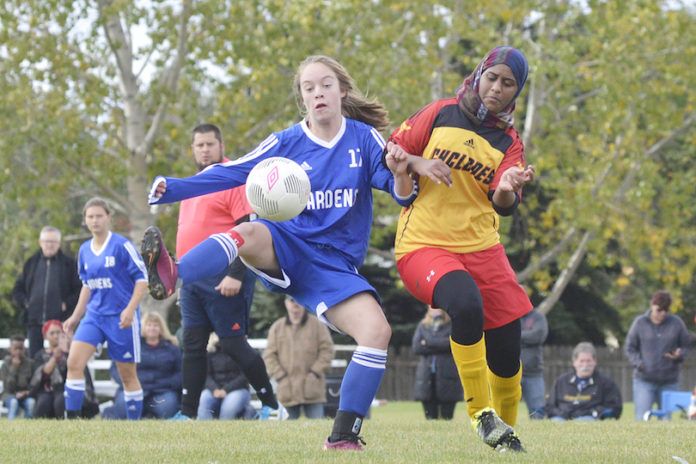 A businesslike Swift Current Comp. Ardens team clinched top spot in the Moose Jaw High School Girls Soccer League with two shutouts victories on the road Saturday.
The Ardens defeated both the Central Cyclones and the Vanier Spirits in Moose Jaw to improve to 6-0 as they search for a ninth consecutive league title.
The Ardens opened the day with a 7-0 win over Central for the third time by the same score over an eight-day span. Grade 12 midfielder Ali Vance ignited the attack with three goals and one assist, while Lauryn Hayes followed with two goals and one assist. MJ Anderson and Amy Neufeld also scored, while Aspen Thomson and Jannae Carlson added assists. Juliana Whalen earned the shutout in goal.
Playing their eighth game in nine days, injuries piled up for the Ardens against Vanier, but they still emerged with an 8-0 win over the Spirits. Captain Lauryn Hayes paced the offense with three goals and two assists, followed by a two-goal outing from Allison Wall. Vance and Anderson also scored, while Rebecca Treen and Ilyssa Dyck added assists. Jaden McKenzie picked up the shutout in goal.
The Ardens, who are now 9-1 on the campaign overall, have little time to recover with two league games this week to conclude the regular season.
They host Moose Jaw AE Peacock on Monday at 4:15 p.m. and Vanier on Thursday at 4:15 p.m. at Irwin Field to conclude the regular season.