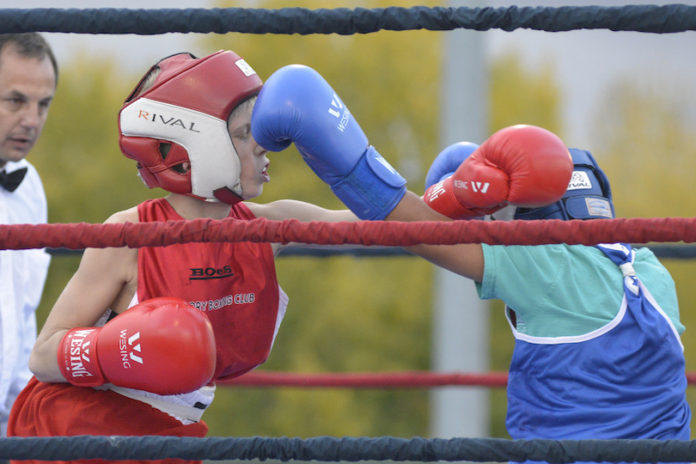 The first Earl Monkman Memorial Boxing Card Fall Brawl did not fail to entertain fans under the lights at Mitchell Field Saturday.
Boxing fans were treated to six boxing matches featuring competitors ranging from eight-year-old girls up to forty-year-old men, including five with boxers from the Southwest.
"It was awesome out here," said Vic-Tory Boxing Club coach Nick Habscheid. "I thought it was going to be too cold to fight in, even at plus-nine, but it was awesome as soon as I got out here. When I had my own match it was awesome, and coaching everyone else it was just spectacular. Under the lights, I can't ask for a more perfect event."
Habscheid hopes that the club can make the outdoor boxing card an annual event.
"It was kind of tough getting some fights in September just because that's when everyone starts their season. We got a little bit of support for this one and hopefully we can roll with more next year."
The event began with an exhibition between Sandhills Boxing Club's Abigail Blohm and Lloydminster's Sydney Collinge as both eight-year-olds were making their ring debut.
The second bout was a three-round slugfest featuring Swift Current's Jaxson Williams and Lloydminster's Mohammed Faison-Farooq Dar.
"I thought it went really good," said Williams, 10, after his first bout. "I was nervous, but it was very fun."
"I kind of have to keep my hands up a little bit more," he added.
Habscheid was Williams' fourth grade teacher last year and has a very close relationship with his young boxer.
"He is an excellent fighter. He has a very promising future, very energetic kid, a well-hearted kid who had an excellent toe-to-toe match."
Habscheid next got in the ring to trade blows with teammate and training partner Dustin Auseth in an exhibition match.
"I knew it was going to be entertaining because every time we spar it is very entertaining for everyone in the club. It was great to show everybody what we were made out of here tonight. It was just supposed to be a nice exhibition, but I popped him pretty good a couple times and it got some humorous reactions out of the crowd."
Swift Current's Jesse Kitchen made his debut against Emile Smith of Lloydminster for an 81 kg exhibition match that ended by referee stoppage.
"Jesse had a bit of a rough one. It was only supposed to be an exhibition, but they decided to stop it early because the other fighter was too active. He also has a promising future. There's a lot of good future match-ups for him. It was good that we set him up with an exhibition I think, now we are going to build off that and he is going to become a way better fighter, maybe improve a bit on his cardio in the future."
The main event featured Shaunavon's Dakota Mcfadyen against Regina's Adam Toto. Mcfadyen, 20, was making his ring debut at 97 kg and lost by split decision to Toto, who had four previous bouts.
"Dakota is a great heavyweight, a great counter-puncher. We are going to have to work on some of his blockage a little bit more. It was so close, a split decision, kind of broke my heart. But Adam, I have also trained with him before and he was a great competitor as well. I thought it was a great main event for everyone to watch. I actually want to see those two match up in the future," said Habscheid.