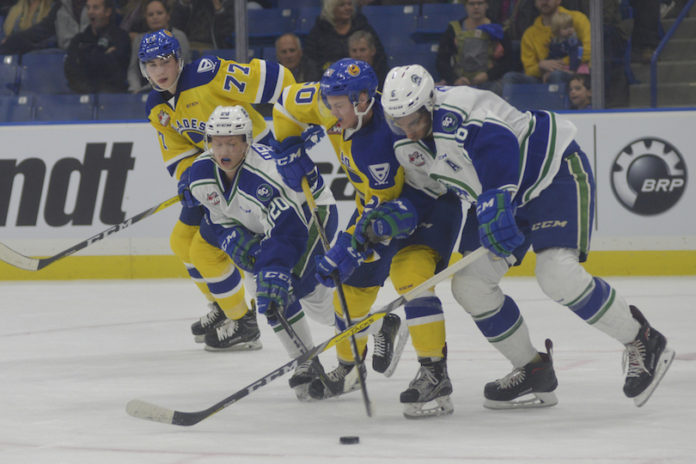 The Swift Current Broncos scored four unanswered third-period goals in a 5-2 win over the Saskatoon Blades to open the 2017-18 Western Hockey League regular season Friday.
The Broncos trailed 2-1 heading into the final frame before Tyler Steenbergen undressed Blades captain Evan Fiala before passing to Riley Stotts, who backhanded the puck over Ryan Kubic. Conner Chaulk netted the game winner midway through the period when Kaden Elder took advantage of a turnover and fed him the puck in the slot before he beat Kubic low to the blocker side.
Glenn Gawdin and Artyom Minulin both added empty net goals to close the scoring.
"I think we just stuck with our game plan," said head coach Manny Viveiros. "We just knew that, especially on the road, if you can give yourself a chance to win in the third period, play the right way and we will give ourselves a chance to win. I thought we played pretty solid. In the second period we started getting more chances, more opportunities, and we stuck with our game."
The game got out to a tentative start, but it was the Blades who opened the scoring 13:46 into the opening period when Caleb Fantillo blasted a point shot in for the first goal of the game as the Blades outshot the Broncos 12-8 in the opening frame.
The Broncos tied the game only 58 seconds into the middle stanza when Gawdin tapped home a beautiful pass from Sahvan Khaira. The Blades regained the lead midway through the period when Bradly Goethals shoveled home puck just before the whistle went.
"I think for us it was execution and our hustle," said Gawdin. "In the third period was when it really took over and we played our game. Just playing more relentless, going on the forecheck we know that pressuring their D creates more space and more offense for us and it really showed once we got on them."
Broncos rookie Joel Hofer got the win with 22 saves on 24 shots in his WHL debut. Ryan Kubic made 25 saves on 28 shot in his debut after being acquired from the Vancouver Giants earlier in the week.
The Broncos will be in Regina to visit the Pats on Wednesday as they open the season with four road games. They will play their home opener on October 7 against the Kootenay Ice.