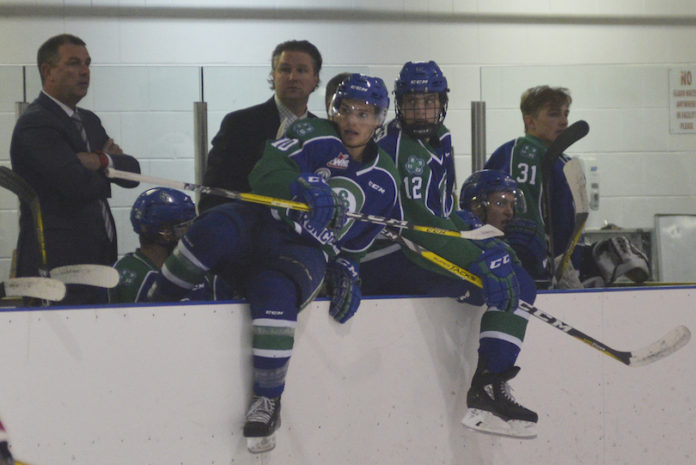 The Swift Current Broncos 2017-18 Western Hockey League season will finally begin tonight on the road against the Saskatoon Blades.
"The guys are excited. This week we have been working on a lot of stuff. The coaches have been getting us ready for the regular season and we are excited," said defenseman Matthew Stanley.
The Broncos will have had 12 days off between their final pre-season game and the season opener in Saskatoon.
"I think with the couple weeks of practice it's really going to help us work on our systems and get the new guys kind of memorizing everything. The guys are working hard, making sure we have our cardio for the season. I think we will just play our game, play like we did last year, simple, aggressive, and I think it will be good," said veteran forward Kaden Elder.
"It's not bad because we get a little bit of a break, the coaches can drill some stuff into us, get the systems into our brains and just get ready for the regular season," added Stanley.
The Broncos are coming off a 39-23-4-6 season that saw them reach the seventh game of the second round of the WHL playoffs before being eliminated by the Regina Pats.
"We will have some guys on the team this year that were there last year. They will have the experience of being in those playoff games. They can just talk to younger guys and let them know that it's alright and not to be too nervous," said Stanley.
"I think we are going to have a good team this year. We have a lot of vets and we have some rookies coming in and they are learning quick, so it will be good for them. It will be fast-paced, but everyone is going to adjust to it real quick and it will be a good start," added Elder.
Elder is now a veteran of 181 WHL regular season games. He posted 15 goals and 12 assists in 67 games last season.
"I think I am just going to play it simple and play my game, make the plays that are needed. Playing with different guys maybe it will give me more opportunity and hopefully I can put up some more points and help other guys put up points and keep the wins going," said the Saskatoon product.
Stanley skated in 51 regular games during his rookie season on the Bronco blueline.
"I am ready for this year. I am just going to work on the little things. I am going to try and get a little more offense to my game. Last year I wish I would have had a few more points. I am just going to keep it simple, do my job out there, and hopefully everything goes well."
"I think we want high expectations. Last year kind of sucked how we went out like that in the seventh game. But our goal should be to win, that's what our goal should be," added Stanley.
One new face in the Bronco line-up will be 6'5'' forward Max Patterson, who was acquired on Sept. 10 from the Kootenay Ice.
"I was excited to meet some of the guys here and be part of a winning culture," said Patterson after being with the team for four days and getting his first few practices in.
"It's been awesome. All the guys have been great to me. Everyone has been awesome, coaches and everything, and the city, it's awesome here. I am excited to get going, put on the jersey and play a game here," he added.
The Kamloops, BC product had 15 points in 63 games with the Ice last season.
"I wanna play big and physical and take pucks to the net and clear some space up for some people," he said.
The Broncos will open the regular season with four games on the road, so Bronco fans will not have the opportunity to see the team at home until October 7 when the Kootenay Ice visit the Innovation Credit Union iplex.
"Yeah I am excited about coming back to our rink," said Elder. "The iplex is really nice. I love playing in this rink. I think it's one of the best rinks in the league to play in when you are used to it. The fans are awesome here and it will be an adrenaline rush coming back here for the home opener."