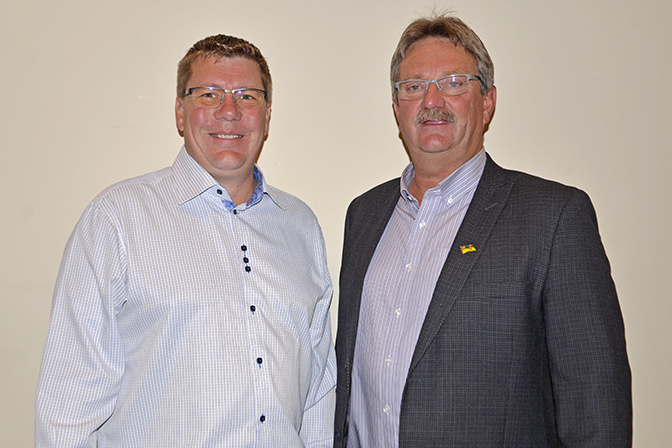 Saskatchewan Party leadership candidate Scott Moe met with supporters at a trio of events in the Southwest on Tuesday.
The Rosthern-Shellbrook MLA attended a breakfast meeting in Swift Current to start the day on September 19, followed by events in Leader and Fox Valley.
Moe, a two-term MLA after first being elected in 2011, has served as the Minister of Advanced Education, Minister of Environment, the Minister responsible for Saskatchewan Water Corporation and Saskatchewan Water Security Agency and has sat as a member of Treasury Board.
"Now it's our opportunity to get across the province and continue to consult and meet with people from all walks of life and all communities," Moe said following Tuesday's breakfast meeting.
When Wall announced back in August he was stepping down as Saskatchewan Premier, he noted his departure provides an important time of renewal for the Saskatchewan Party.
"Once we were over the personal emotions of our Premier Wall announcing that he's going to step back, I think he's right with respect to the renewal and the conversation that's coming over the next three to five months on behalf of the Saskatchewan Party," Moe said.
"But I think it's also a very important conversation for all of the province over the next number of months, as ultimately whoever is successful in this will become the Premier for a few years prior to the 2020 election."
"The policies that we put forward in this leadership election are going to be policies that we'll feel comfortable going to the general electorate and asking for their support in just about three years."
An early platform idea proposed by Moe shines a spotlight on international trade and exports.
"We would replace the Minister of Economy with a very focussed Minister of Export and Trade. We would put together a Premier's Council on Trade and Export that would advise the Premier and that Minister on different directions that we need to take to continue to increase the trade – which we have done over the last number of years – but to continue to increase those trade dollars, those export dollars into the future.
"They are the source points of wealth. Our exports are the source points of our careers here in the province. And they're really the source points of how we grow our province with population, and we grow our economy and our population in our communities across the province."
Swift Current has the distinction of hosting the first of six Saskatchewan Party leadership candidate debates on October 19, and Moe thought it was fitting that the series does kick off in Swift Current.
"It's a great place to start and I think it's indicative of the last 10 years of success that we've had with Premier Wall as our leader."
"I'm looking forward to it. I think it's just an opportunity for us to remind ourselves of the discussion that we need to have on behalf of party members over the next number of months, but most importantly on behalf of the people of Saskatchewan as we start to prep ourselves to go to them to ask for their support in 2020."
There are now four official candidates in the leadership. Moe and Saskatoon Willowgrove MLA Ken Cheveldayoff were the first two candidates to file their nomination papers, and they have been joined in the past days by Gordon Wyant, MLA for Saskatoon Northwest MLA, along with Alanna Koch, the former Deputy Minister to the Premier. Tina Beaudry-Mellor, MLA for Regina University, is also campaigning for the leadership.