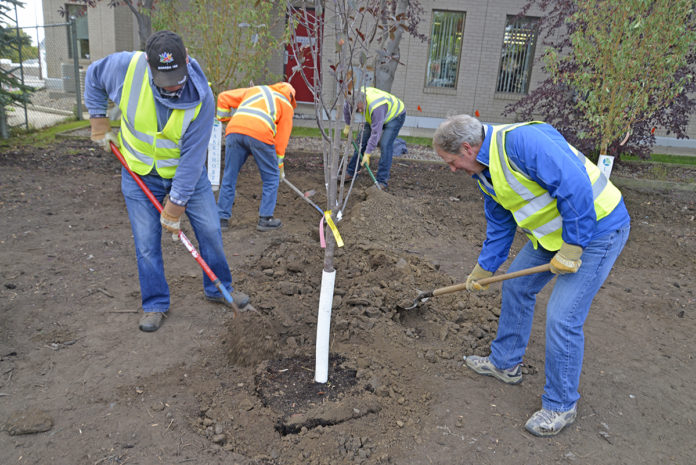 A strong turnout of volunteers helped tackle nine various community beautification projects throughout Swift Current during Go Green 2017.
Stark & Marsh and Innovation Credit Union hosted their ninth annual Go Green Friday on September 15, with volunteers rolling up their sleeves to plant 73 trees and 145 shrubs along with 500 perennial during the day long effort.
"We started it nine years ago and we were just hoping to have something that we could do for a year to give back. And it has turned into nine years of giving back. And it just keeps getting bigger and bigger. More and more volunteers every year," explained Stark & Marsh CEO Elden Moberg.
"What started out as a little project has turned into a real nice annual tradition within our community. So it has been good to be a part of that."
This year's projects targeted a series of park spaces and flower beds around the community, plus there was also a continuing effort on a Swift Current Creek Watershed Stewards project which helps remove invasive weeds from the creek running through the community.
As the ninth annual Go Green Friday, and the second year of Innovation Credit Union being an event partner, the strong volunteer support generated during the day is allowing them to tackle bigger projects.
"It has been a real positive experience, not only for our staff, the people that work at Stark & Marsh, but I think for the community in general," Moberg said of the expanded Go Green effort.
There has also been a significant project impact thanks to the work completed over the years, with over 2,400 trees and shrubs planted.
"I think anybody who has contributed to this over the last nine years probably can drive by a specific place in town saying 'I was part of that project.'"
"It has been excellent. It's just one of those things that sometimes you don't realize when you start it what you're actually going to get at the end."