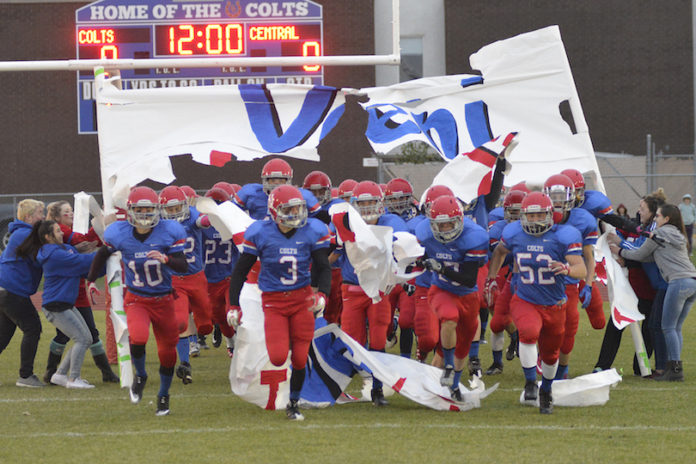 The Swift Current Comp. Colts committed a turnover on the opening kick-off and never really recovered in their fourth annual Thursday Night Lights game at Colts Field Thursday.
The Colts allowed the first 34 points in a 34-14 loss to the Moose Jaw Central Cyclones to fall to 1-1 on the season and 2-2 under the lights at Colts Field.
Colts Field was buzzing prior to the opening kick-off with newly installed seats from Mosaic Stadium, a brand new scoreboard, new uprights, and over 800 fans despite the chilly conditions, but the Colts were no match for the speed and execution of the visiting Cyclones.
"About as bad a start as we could probably have," said head coach Derek Murdoch. "We talked last night about we cannot let them get the ball on the opening kick-off. We know that they are going to defer and we are going to get the ball. I don't think he was trying to kick it as weird as he did, but it came off his foot weird and into a bad spot and nobody jumped on it. So they have a short field and they score and you are down that quick and it's just tough."
The Colts finally got on the board in the fourth quarter with a long catch and run touchdown from Nic Bachiu and then a five-yard touchdown run from Brady Moen.
Murdoch agreed that it was a disappointing performance in front of such a large crowd of students and family.
"It's tough. The kids were so good all day about getting ready to go at 7 o'clock. They were emotionally, it's just a couple of plays, that kick-off, and then they ran that 60-yard up the middle touchdown thing. It's disappointing. We have all these people here and we are excited about where we're at. We just didn't really perform. We had a couple of exciting things at the end, which is good, kind of makes it sound better. At the end of the day it is disappointing."
The Colts will now prepare to host the defending league champion Moose Jaw AE Peacock Tornadoes on Tuesday at 4 p.m.