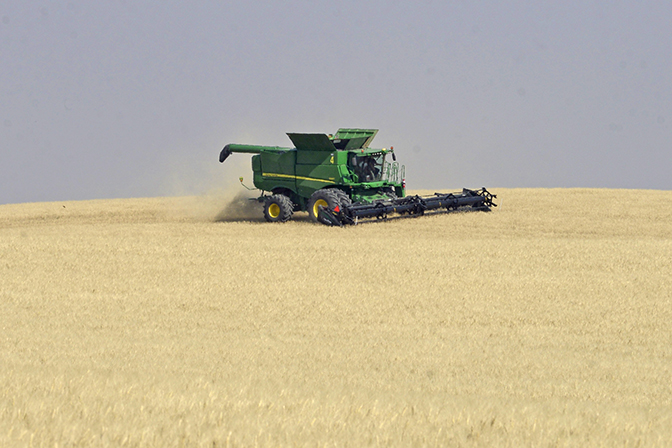 Many producers across the Southwest have wrapped up harvest operations, but others will need another couple of weeks to complete the 2017 harvest.
Saskatchewan Agriculture's Crop Report for the period of September 5 to 10 highlights that 86 per cent of the Southwest crop in in the bin, and an additional four per cent is swathed or ready to straight-cut. Area producers are well ahead of the five-year average of 57 per cent completed by early September.
The harvest progressed another 16 per cent from the previous week after a week without rain occurred. The extended dry conditions continue to produce worsening topsoil moisture conditions. Topsoil moisture on cropland is rated as 12 per cent adequate, 29 per cent short and 69 per cent very short. Hay land and pasture topsoil moisture is rated as eight per cent adequate, 19 per cent short and 73 per cent very short.
The majority of crop damage this past week was due to a lack of moisture and strong winds that have blown some swaths around.
With the dry field conditions, many producers have indicated that winter cereals may not be seeded this fall unless moisture is received soon. There are also many reports of combine, stubble and grass fires in the region and rainfall would be welcomed to help alleviate concerns.
There were reports of frost in the Consul and Val Marie areas, although damage is minimal.
Durum grades in the Southwest are estimated as 77 per cent 1CWAD, 20 per cent 2CWAD and three per cent 3CWAD. Estimated field pea grades are 63 per cent 1CAN, 36 per cent 2CAN and one per cent 3CAN, while estimated lentil grades are 30 per cent 1CAN, 67 per cent 2CAN and three per cent 3CAN.
Province wide the Southwest leads the way with 86 per cent of the harvest completed, followed by the Southeast where 76 per cent of the crop is now combined. The West Central region has finished 66 per cent of the harvest, the East Central is 57 per cent finished, while the Northeast is 37 per cent done and the Northwest is 35 per cent completed.
Saskatchewan Harvest
(% progress, as of Sept. 11)
Winter wheat – 99%
Fall rye – 98%
Lentils – 98%
Peas – 95%
Mustard – 82%
Durum – 81%
Chickpeas – 74%
Barley – 71%
Spring wheat – 63%
Canola – 50%
Canaryseed – 49%
Oats – 48%
Flax – 20%
Soybeans – 10%
Saskatchewan Harvest Progress
(as of September 11)
Winter Wheat
Combined – 100%
Fall Rye
Combined – 85%
Greenfeed/silage – 15%
Spring Wheat
Standing – 8%
In Swath – 2%
Ready to straight combine – 5%
Combined – 85%
Durum
Standing – 9%
In Swath – 1%
Ready to straight combine – 5%
Combined – 85%
Barley
Standing – 15%
In Swath – 1%
Ready to straight combine – 2%
Combined – 82%
Oats
Standing – 12%
In Swath – 0%
Ready to straight combine – 7%
Combined – 68%
Greenfeed/silage – 13%
Canaryseed
Standing – 42%
In Swath – 0%
Ready to straight combine – 43%
Combined – 15%
Flax
Standing – 62%
Ready to straight combine – 7%
Combined – 31%
Canola
Standing – 18%
In Swath – 3%
Ready to straight combine – 3%
Combined – 76%
Mustard
Standing – 12%
In Swath – 2%
Ready to straight combine – 0%
Combined – 86%
Soybeans
Standing – 71%
In Swath – 0%
Ready to straight combine – 29%
Combined – 0%
Field Peas
Standing – 4%
In Swath – 0%
Ready to straight combine – 0%
Combined – 96%
Lentils
Ready to straight combine – 1%
Combined – 99%
Chick Peas
Standing – 23%
In Swath – 0%
Ready to straight combine – 1%
Combined – 76%