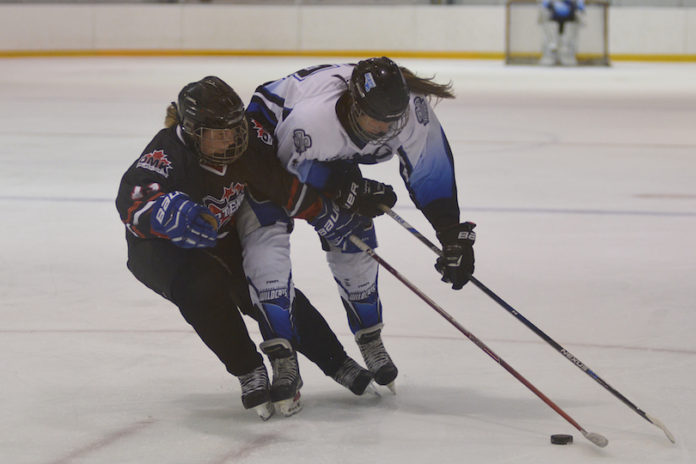 The Swift Current Female Midget AAA Diamond Energy Wildcats got out to a quick start to the season with three wins during their annual pre-season home tournament.
Their ability to produce offense had to be encouraging after scoring at least four goals in each game, outscoring their opponents 17-8 overall.
Friday, the Wildcats opened the weekend with a 4-2 win over the Kimberley Nitro Xpress. Veteran forward Trista Labarowski scored twice, while defensemen Taylor Kirwan and Kamryn Johnson also scored. Sara Kendall picked up a pair of assists, while Brooklyn Colborn and Carissa Hogan added single helpers. Harper Davey earned the win with 16 saves on 18 shots.
Saturday, the Wildcats followed up with an 8-2 win over the Pilot Mound Buffaloes. Kendall led the way with three goals and an assist and Kirwan also had four points with two goals and two assists. Hogan added three assists and Labarowski had a goal and an assist.
Layne Hryhoriw and Courtney Funk also scored in the win. Maddy McCleary, Ryleigh White, Crystal Wale, and Johnson also added single assists. Amaya Giraudier made 15 saves to get the win.
Sunday, the Wildcats scored with only four seconds left on the clock to defeat the Central Plains Capitals 5-4. Hogan continued to produce offensively with a goal and two assists, while Taylor Kirwan scored twice and Tenelle Lind added two assists. Colborn and Hryhoriw also scored, while Labarowski, Brynne Doerksen, Kalea Sauder, Kendall, and Wale all added assists.
Davey made 16 saves and Giraudier made 11 saves as they shared the crease in the final game of the weekend.
The Wildcats are off to Weyburn for two Saskatchewan Female Midget AAA Hockey League regular season games against the Gold Wings this weekend.