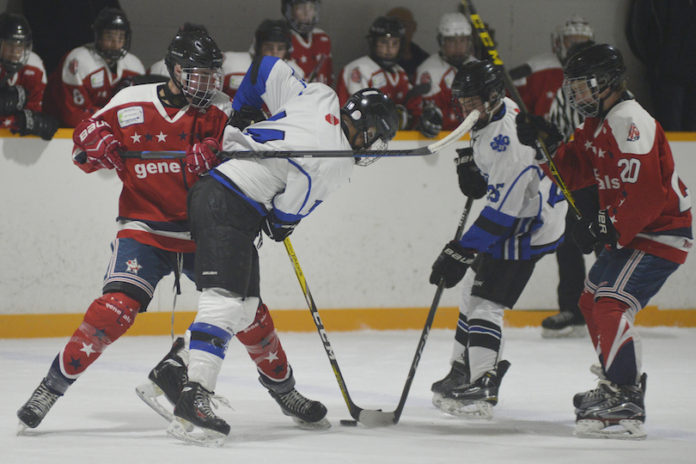 The Swift Current Midget AAA Home Hardware Legionnaires got their exhibition season out to a busy start with three games in as many days over the weekend, winning twice along the way.
Friday, the Legionnaires lost 6-0 to the host Moose Jaw Generals. Brad Nyen made 16 saves on 17 shots over 30:54. Jamieson Dryka made 15 saves on 20 shots over 29:06 for the Legionnaires. Moose Jaw got goals from six different skaters, including a goal and an assist each from Skyler Sangster and Casey McDonald. Swift Current Broncos prospect Ethan Hein stopped all 11 shots he faced, while Jake Davidson also made 11 saves to share the shutout for Moose Jaw.
Saturday, the Legionnaires bounced back with a 3-1 win over the host Saskatoon Contacts. Jagger Prosofsky scored the first two goals for Swift Current before Boston Maxwell replied for the Contacts. Boston Bayly scored into an empty net to close the scoring.
Hendrik de Klerk and Jaxon Marten added assists, while Steven Duscherer made 40 saves in goal.
Sunday, the Legionnaires scored four unanswered goals to defeat the visiting Moose Jaw Generals 6-3. Rin Beny and Hunter Lamb each finished with a goal and two assists. Rhett Evjen scored twice, Rhett Stevenson had a goal and an assist, and Mykllan Couture added two assists.
Lucas Ochitwa also scored, while Jackson Sitter and Jerzy Orchard each added assists. Duscherer made 12 saves on 15 shots over 29:28. Veteran Cody Levesque played the rest of the way and stopped all 16 shots he faced.
The Legionnaires will reach the midway point of their preseason on Tuesday when they head to Wilcox to meet the Notre Dame Hounds. They are back in Swift Current on Wednesday to face the Hounds at 6:45 p.m. at Fairview West Arena.