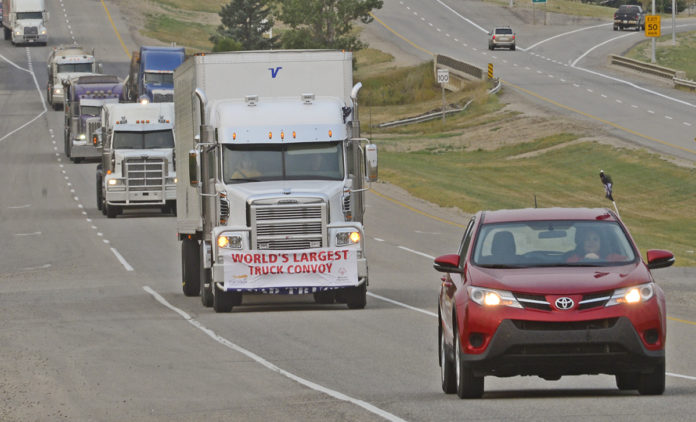 A group of rigs from Swift Current joined the World's Largest Truck Convoy for Saskatchewan Special Olympics on Saturday.
The trio of semi trucks left Swift Current on Saturday morning and met up with 20 trucks in Moose Jaw before travelling to Regina as part of the 11th annual Truck Convoy in support of Special Olympics Saskatchewan.
"This continues to be something that people support. Now it's exciting to think of having a different group of people join us," explained Jennifer Ellarma, Chair of the Board of Directors for Special Olympics Saskatchewan.
Ellarma made the trip from Swift Current to Regina as part of a six vehicle convoy leaving for the first time from the Southwest. The first 10 years of the effort had exclusively been between Saskatoon and Regina.
"We're really excited to add this leg. Swift Current Special Olympics is a really strong program. We've produced some really great athletes out of here that have participated in the national level and the world level. We're really excited to see such a strong community support from a place like Swift Current."
The 26 vehicle convoy from Swift Current/Moose Jaw met the trucks travelling from Saskatoon to form a 41 truck convey which converged on Regina's Turvey Centre for an afternoon of activities. They were escorted through Regina by Saskatchewan Law Enforcement Torch Run officers.
"The spectacle of it. When you see a line-up of transport trucks together, it's quite a sight to see. We actually get people to pull over on the side of the road knowing it's coming, and will wait for us to come through," Ellarma noted.
The convoy helps raise awareness and funds for Special Olympic Saskatchewan athletes.
"This fundraiser really shows the support that people have for our organization because they really step up and beyond to raise those pledges and then dedicate their time on a Saturday to come with us to Regina."
Swift Current had the distinction of having the lead truck for the convoy, as Swift Current Special Olympics athlete Harold raised a provincial leading $1,700 in total pledges.