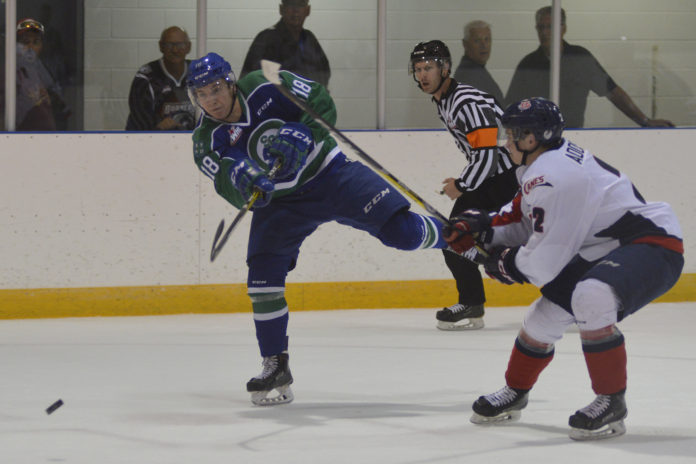 The Swift Current Broncos got 40 saves from Taz Burman in a 3-2 win over the visiting Lethbridge Hurricanes to conclude the Western Hockey League pre-season Sunday.
The overage goaltender made 40 saves on 42 shots, while rookie hopeful Ethan Regnier was in on all three goals with a goal and two assists and veteran Arthur Miller scored twice.
The Broncos never trailed after Miller opened the game with a power play goal in the first period. Hayden Clayton replied for Lethbridge 5:18 later, but Regnier scored minutes later with a low shot from the wing on the rush.
Miller added the only goal in the second period, his third of the pre-season, before Jadon Joseph tallied for Lethbridge during the period.
Bryan Thomson took the loss with 24 saves on 27 shots two days after the Hurricanes had defeated the Broncos 6-3 in Lethbridge.
"I was happy with the way we played," said Head Coach Manny Viveiros. "We competed real hard tonight. I thought it was a physical game and I was very happy with the whole team, but some guys really made a strong push in making this hockey club. It was real good to see."
"I think it was important to compete hard and get a win because we lost a few in a row there," added Burman. "Even though it's pre-season, you don't want to have losing streaks. I like the effort from the guys. There were a lot of blocked shots out there, a lot of physicality, which I think was good for the last pre-season game. It felt a little more like a regular season game, which is good to get us ready for how we need to play. I really liked the compete level out there, which is what we talked about going in. We weren't too happy about our game in Lethbridge, so this was important for us to get out there and compete hard."
The Broncos will not open the WHL regular season until September 22 when they visit the Saskatoon Blades.