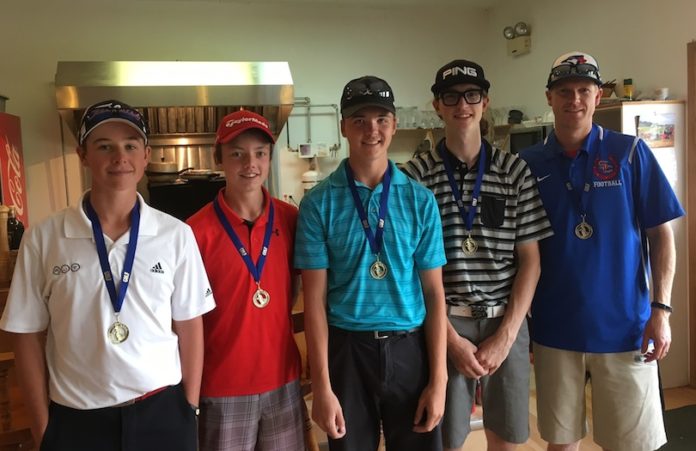 Submitted by Deb Reamer, Athletic Coordinator
The SWAC district golf championships were held at Streambank Golf course on Sept 9. It was a beautiful warm day as 15 golfers competed over 18 holes. Schools participating included Eastend, Fox Valley, Ponteix and Swift Current Comp.
Congratulations to the winning team from Swift Current Comp. Team members consisted of Griffin Wilson, Gaige Calkins, Ethan Fizell and Nikhil Pool and the coach was Ron Bailey. The team total was 215. In second place was the team from Ponteix with 219 and third was Eastend with 257.
Individual results were:
1st – Griffin Wilson, Swift Current Comp (69)
2nd – Gaige Calkins, Swift Current Comp (71)
3rd – Rylan Egland, Eastend (76)
All the golfers mentioned above will now advance to the SHSAA provincial championship in Estevan on September 22 & 23. Good luck! Thanks to Streambank golf course and commissioner Ryan Medforth for hosting – job well done!
Football scores:
Sept 8: 9 man football Lumsden 69 @ Maple Creek 0
Sept 8: 6 man football Gull Lake 56 @ Central Butte 0
Sept 9: 12 man football Swift Current Comp 39 @ Weyburn 14.
On Sept 9, the Swift Current Ardens soccer team opened their season at home with two wins over Weyburn on Sept 9. The Ardens won by scores of 4-0 and 3-1.
The SWAC senior girls volleyball league will start on Sept 12. There are seven teams in the league this year: Consul, Eastend, Frontier, Hazlet, Hodgeville/Vanguard, Gull Lake and Maple Creek. The first games will be Sept 12 with Consul and Hodgeville hosting. Games will start at 5 p.m.
Upcoming games:
Sept 13: Moose Jaw Peacock @ Swift Current Colts soccer
Sept 14: Moose Jaw Central @ Swift Current Colts football (under the lights)
Sept 15: Gull Lake @ Caronport – 6 man football
Sept 15: Shuanavon @ Maple Creek – 9 man football