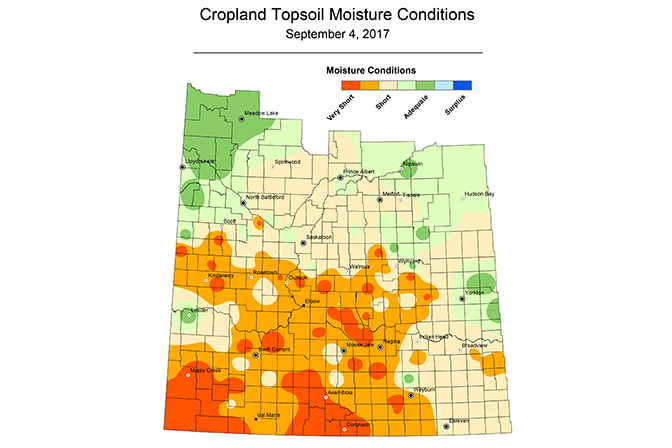 A busy week where producers completed another 21 per cent of harvest operations has resulted in the Southwest improving to 70 per cent done the 2017 harvest.
According to the Saskatchewan Agriculture Crop Report for the period of August 29 to September 4, area producers are well ahead of the five-year average of the harvest being 45 per cent completed. In addition, another 13 per cent of the crop is swathed or ready to straight-cut.
Crop Report estimates for the Southwest notes 70 per cent of crops have been combined, 11 per cent is ready to straight combine, two per cent is in swath, and only 17 per cent of the crop is still standing.
Province wide the Southwest leads with way with 70 per cent of the crop completed. The Southeast follows closely at 60 per cent combined, while producers in West Central areas are 44 per cent completed and East Central farmers are 36 per cent done. Northern regions are now starting to get into full swing, with 18 per cent combined in the Northwest, and 12 per cent in the Northeast.
The extended lack of moisture in the Southwest continues to impact topsoil moisture conditions. On cropland, topsoil moisture is rated as 13 per cent adequate, 32 per cent short and 55 per cent very short. Hay land and pasture topsoil moisture is rated as eight per cent adequate, 23 per cent short and 69 per cent very short.
Saskatchewan Harvest
(% progress, as of Sept. 4)
Winter wheat – 99%
Fall rye – 98%
Lentils – 91%
Peas – 90%
Durum – 62%
Mustard – 58%
Barley – 51%
Spring wheat – 38%
Chickpeas – 31%
Canola – 26%
Oats – 24%
Canaryseed – 16%
Flax – 9%
Soybeans – 8%
Saskatchewan Harvest Progress
(as of September 4)
Winter Wheat
Combined – 100%
Fall Rye
Combined – 93%
Greenfeed/silage – 7%
Spring Wheat
Standing – 24%
In Swath – 3%
Ready to straight combine – 14%
Combined – 59%
Durum
Standing – 18%
In Swath – 1%
Ready to straight combine – 13%
Combined – 68%
Oats
Standing – 31%
In Swath – 5%
Ready to straight combine – 13%
Combined – 33%
Greenfeed/silage – 18%
Barley
Standing – 13%
In Swath – 2%
Ready to straight combine – 7%
Combined – 77%
Greenfeed/silage – 1%
Canaryseed
Standing – 69%
In Swath – 0%
Ready to straight combine – 19%
Combined – 12%
Flax
Standing – 77%
Ready to straight combine – 13%
Combined – 10%
Canola
Standing – 25%
In Swath – 10%
Ready to straight combine – 18%
Combined – 47%
Mustard
Standing – 19%
In Swath – 3%
Ready to straight combine – 20%
Combined – 58%
Soybeans
Standing – 100%
Field Peas
Standing – 4%
In Swath – 0%
Ready to straight combine – 4%
Combined – 92%
Lentils
Standing – 4%
In Swath – 0%
Ready to straight combine – 3%
Combined – 93%
Chick Peas
Standing – 54%
In Swath – 0%
Ready to straight combine – 13%
Combined – 33%