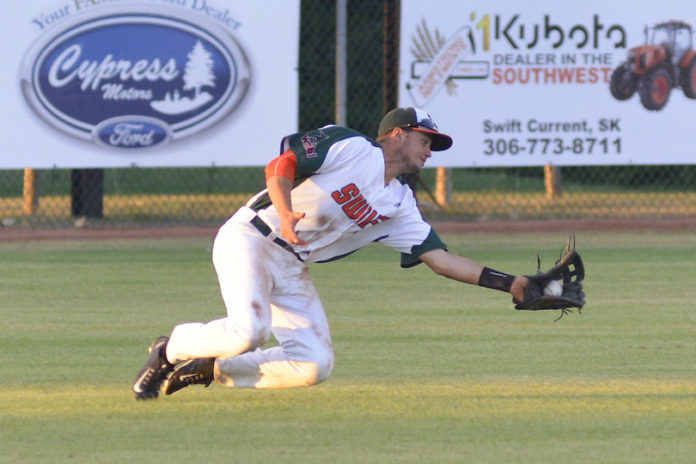 The Swift Current 57's won their sixth consecutive game Saturday to clinch top spot in the Western Major Baseball League's Eastern Division.
The host 57's trailed the rival Regina Red Sox for the middle portion of the game before scoring four runs in the seventh and eighth innings and held on for a 6-5 win to improve to 32-15 with one game remaining in the regular season.
The 57's trailed 3-1 in the seventh inning before Keil Krumwiede led off the inning with a solo home run. Blake Adams put the 57's ahead with a two-run home run, his 11th of the season, to tie teammate Brett Esau and Nik Gumeson for the franchise single season record.
Regina got one run back in the eighth, but the 57's answered in the bottom of the inning when Nick Canas singled home Mason Brown.
Krumwiede came on for the save, but Regina jumped all over him for a quick run. The 57's closer recovered to get the next three outs to clinch division title.
"These guys deserve it," said coach Joe Carnahan. "They battled hard all year. It's been an absolute grind this year like it is every year. These guys played hard every day, came to the park and they executed the offense like they are supposed to and pitched the ball well again tonight."
"It is big time," added Adams. "Coming in we knew we needed one win and so we just played together as a team."
"I was just trying to put a barrel on a ball and luckily it snuck out of here," he said of his pivotal home run, which saw Regina left fielder narrowly avoid serious injury after he crashed full speed into the outfield fence. "I don't think it got out of here by much. It was good to get a couple insurance runs there, we ended up needing them."
The 57's will now face the Moose Jaw Miller Express in the opening round of the playoffs, but only after they conclude the regular season in Moose Jaw Sunday.