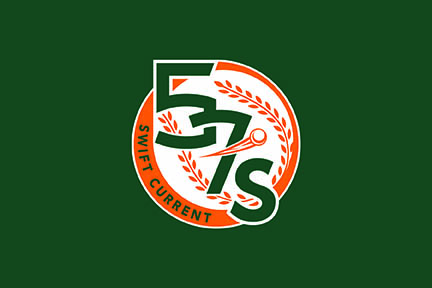 The Swift Current 57's took two big steps closer to an Eastern Division pennant by sweeping the host Regina Red Sox in a Friday double header. Their pitching staff came up big, holding the league's highest scoring team to only five runs over 14 innings.
The 57's hit a pair of home runs in a 3-2 win in the opening game. Matt Michalski limited the Red Sox to five hits, three walks, and two runs over five innings to improve to 4-3 on the season. Closer Keil Krumwiede came on to get the final six outs to get the save.
The 57's opened the scoring with a solo home run to lead off the second inning from Brett Esau. The Meadow Lake native tied Nik Gumeson for the franchise record with his 11th home run of the season. Krumwiede added a solo shot of his own in the fifth inning to tie the game 2-2.
Esau knocked home the winning run in the sixth inning with a single to bring home Blake Adams.
The 57's followed up with a 7-3 win in game two to end Regina's pennant aspirations.
The 57's scored first again when Adams was hit by a pitch, stole a base, and scored on a wild pitch in the third inning. They tacked on three more runs the next inning, beginning with a two-run double from Matt Bondarchuk, who would eventually steal a base and score on an error. Regina quickly replied with three unearned runs in the bottom of the inning.
Mason Brown scored on an error in the top of the fifth for a 5-3 57's lead and then Bondarchuk hit another double to score Cole Thibodeau and Thomas DeBonville for a 7-3 lead.
James Smith did not allow a hit, but was tagged for three unearned runs, to improve to 6-1 on the season. Layne Downing and Jagger Harjo each tossed two scoreless innings to close out the win.
The 57's improved to 31-15 with their current five-game winning streak to lead the Western Major Baseball League's Eastern Division by two games with two games remaining in the regular season.
Regina dropped to 28-17 and now sit third in the division behind Weyburn. Regina can now finish no higher than second and Weyburn will need to win both games and hope for two straight 57's losses to finish first.
The 57's and Red Sox will meet for the third time in two days when they rematch Saturday at Mitchell Field in Swift Current at 7:05 p.m. when the 57's can lock up top spot and home field for the first two rounds of the playoffs with a win.