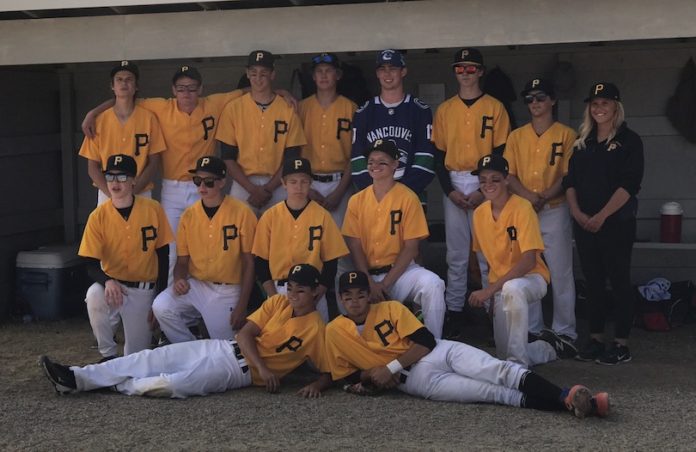 Submitted
Ponteix hosted the six-team Midget Boys Tier 4 Provincial Ball Tournament on July 21–23. The Assiniboia Aces, Gravelbourg Bulls, Hanley White Sox, Red River Royals, Watrous Lakers, and host Ponteix Pirates all took part.
Community support was essential to pull off the endeavor and Ponteix citizens did not disappoint! Thanks to the many sponsors and volunteers who made the weekend possible with donations and hours worked to set up, keep the grounds, run the gate, canteen and 50/50 sales, scorekeeping and pitch count, as well as clean up.
Teams were welcomed by M.C. Holly Franklin in the opening ceremonies where Kelsey Zerr sang O Canada, greetings were offered by Bob Lasante, and the opening pitch was thrown by Vancouver Canuck draft pick Kole Lind. Kole stayed to watch ball and sign autographs for fans of ball and hockey alike.
The games were action filled and we were treated to three great days of ball, heat and camaraderie in the players. The officials built rapport with the players and for the most part, players were respectful and gave 100 percent effort. The temperatures soared to 38 Celsius, yet the boys battled on.
Red River topped the round robin with a 3-0 record, followed by Assiniboia at 2-1, and Ponteix at 2-1. Hanley grabbed the final playoff spot with a 1-2 record.
Ponteix defeated Assiniboia in the third versus second semi-final and met Hanley, who upset Red River in the other semi-final.
The finals were played in 35 Celsius heat and ended in a silver-medal finish for hometown Ponteix, with a score of 6 to 5… the tying run was on third base… it doesn't get any closer than that!