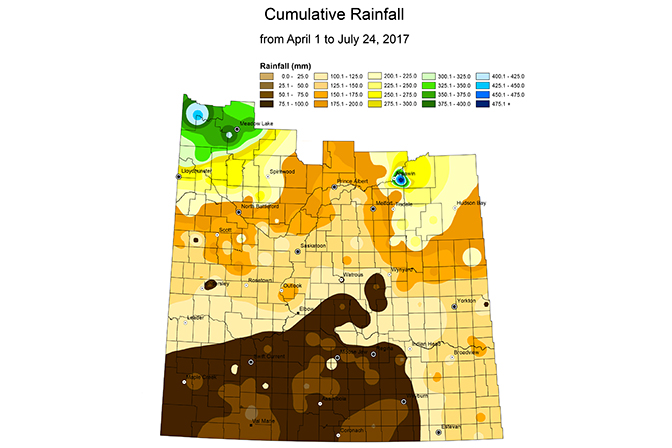 A July with little precipitation has continued to stress crops, hay land and pastures across the Southwest.
The Saskatchewan Agriculture Crop Report for the period of July 18 to 24 noted that the Southwest endured another week of high temperatures and little moisture. In fact, the report highlights that many areas of the Southwestern crop region have not received much more than five to eight centimetres (two or three inches) of rain since April 1. As a result, many area crops are severely heat-stressed and beginning to dry down.
"Yields will be affected, especially on crops that have been in full flowering during the high temperatures. Many crops are short, thin and rapidly drying down," the Crop Report stated.
The heat and lack of moisture has continued to deteriorate topsoil moisture conditions this past week. Topsoil moisture on cropland is rated as seven per cent adequate, 40 per cent short and 53 per cent very short. Hay land and pasture topsoil moisture is rated as
six per cent adequate, 34 per cent short and 60 per cent very short.
"All crop districts in the region are reporting that at least 88 per cent of all cropland, hay land and pasture is short to very short topsoil moisture at this time. Crop Districts 3ASW, 3BS and 4A (the extreme southern portion of the Southwest) all report that 100 per cent of cropland, hay land and pasture is short to very short topsoil moisture. Although significant rain is needed in the region to help crops fill and to replenish the topsoil, any rain that comes now will be too late for many areas. Crops there are rapidly ripening and have already been severely affected by heat stress and lack of moisture," the crop report notes.
The harvest of winter cereals and pulses has already begun in some areas, with yields reported as being significantly lower than normal. In addition to the high temperatures and lack of rain, crops have been damaged this past week by strong winds, gophers, hail
and insects such as aphids and grasshoppers. There are also several reports of grass fires in the region.
Haying continues in the region and livestock producers now have 86 per cent of the hay crop baled or put into silage , with an additional eight per cent cut and ready for baling. Hay quality is rated as seven per cent excellent, 50 per cent good and 43 per cent fair. Hay yields are significantly lower than average overall and many producers have indicated that there will not be a second cut this year due to a lack of plant growth. Pastures in many areas are at carrying capacity and rain is needed to help replenish dugouts.
Crop Conditions
(Southwest percentages as of July 24)
Winter wheat
Excellent – 0%
Good – 11%
Fair – 88%
Poor – 1%
Very Poor – 0%
Fall rye
Excellent – 0%
Good – 76%
Fair – 17%
Poor – 7%
Very Poor – 0%
Spring wheat
Excellent – 1%
Good – 15%
Fair – 55%
Poor – 28%
Very Poor – 1%
Durum
Excellent – 1%
Good – 17%
Fair – 52%
Poor – 28%
Very Poor – 2%
Oats
Excellent – 0%
Good – 8%
Fair – 54%
Poor – 36%
Very Poor – 2%
Barley
Excellent – 2%
Good – 15%
Fair – 65%
Poor – 17%
Very Poor – 1%
Canaryseed
Excellent – 10%
Good – 23%
Fair – 45%
Poor – 22%
Very Poor – 0%
Flax
Excellent – 0%
Good – 6%
Fair – 41%
Poor – 36%
Very Poor – 17%
Canola
Excellent – 2%
Good – 17%
Fair – 54%
Poor – 21%
Very Poor – 6%
Mustard
Excellent – 0%
Good – 12%
Fair – 45%
Poor – 40%
Very Poor – 3%
Soybean
Excellent – 0%
Good – 7%
Fair – 39%
Poor – 48%
Very Poor – 6%
Pea
Excellent – 2%
Good – 24%
Fair – 45%
Poor – 28%
Very Poor – 1%
Lentil
Excellent – 2%
Good – 23%
Fair – 51%
Poor – 23%
Very Poor – 1%
Chickpea
Excellent – 0%
Good – 13%
Fair – 53%
Poor – 33%
Very Poor – 1%