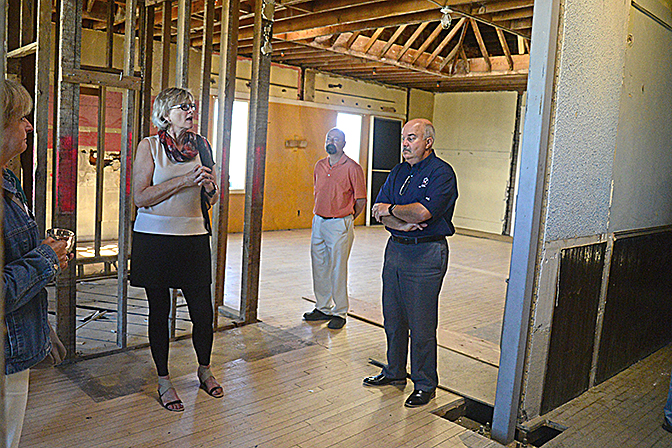 Swift Current's grand ole Lyric Theatre clearly does matter to supporters after winning the $30,000 Regional-West prize in the National Trust This Place Matters competition.
A special announcement was made on Monday where the Lyric Theatre was unveiled as having finished among the top entires in the National Trust's competition which ran from June 14 to July 20. The Lyric Theatre was one of 25 community projects vying for a national grand prize of $60,000, and while they missed out on that top prize they did capture one of three top regional prizes of $30,000.
"The businesses around Swift Current really pushed us over the top and helped us. They are the majority of the reason why we had so many donations," explained Lyric Theatre Program Manager Corla Rokochy. "It was though the board and the sponsorship committee reaching out and getting those donations from local businesses. And they're just so supportive and we appreciate it. Without their support we wouldn't be able to do what we do here with the programming and supporting arts and music and youth. So it's very special."
The contest generated support through daily on-line voting plus crowdfunding to build votes for specific projects. During the campaign, the Spirit of the Lyric project surpassed their fundraising goal of $40,000 and generated strong online momentum for daily on-line voting.
"There was over $45,000 in donations, so we have $75,000 to start finishing upstairs," Rokochy said following their successful fund-raising initiative.
This influx of cash will allow the Lyric to move their office space to the second level during a renovation of the front half of the buildings second level. They plan to deliver art classes and music lessons out of the expanded space, programs where they can generate additional revenues in order to continue renovation work.
"I think as we develop upstairs people will see how wonderful it's going to be, and there will be more interest from non-profits or artist groups."
Rokochy notes they have already contacted plumbing and heating businesses to get quotes on air conditioning and heating for the renovated space. And while this work is still a couple of months away, she said excitement is building regarding the future of the Lyric Theatre.
"We are ready to go up there anytime, as soon as it's complete the office will be going upstairs."
"It's such a beautiful place up there, overlooking all of Swift Current. I can't wait for it to happen."
The campaign also put a spotlight on some of the reasons why the Lyric Theatre is so integral to the community.
"We reached out and asked people to tell us what the Lyric Theatre meant to them. And so many people came back with stories. The Lyric Theatre has been around for over 100 years, so everyone has a story and memory, and it's related to something wonderful, whether it's a dance, a movie, a wedding that happened here, it's all positive things and wonderful memories. So anything that they could do to help the Lyric Theatre move forward, and move upstairs and create more space for art and music and continue to do what we do, they were totally on board."
And, for a building that is over one century old, the campaign has truly help breath new life into the Lyric.
"There aren't that many places around that have this legacy," Rokochy said. "We heard that over and over that they just said thank you for being stewards of this building, and ensuring that it continues to be here and that programming and the wonderful things that happen don't stop. So it means a lot to a lot of people around the Southwest."
The eight winning projects in the 2017 This Place Matters national crowdfunding contest were:
BIG PROJECTS:
National Prize ($60,000): Windows into the Future by First United Church (Truro, NS)
Regional-West Prize ($30,000): Spirit of the Lyric by Lyric Theatre (Swift Current)
Regional-Central Prize ($30,000): Keep Our Light Shining by PPLPS (Brighton, ON)
Regional-East Prize ($30,000): Union Art Project by Sir William Ford Coaker Heritage Foundation (Port Union, NL)
SMALL PROJECTS:
National Prize ($30,000): Spencerville Riverside Park by Spencerville Mill Foundation (Spencerville, ON)
Regional-Central Prize ($15,000): Top off the Petrie by Architectural Conservancy Ontario Guelph Wellington Branch (Guelph, ON)
Regional-East Prize ($15,000): Glenaladale… One Brick at a Time, Our Diamond in the Rough by Glenaladale Heritage Trust (Tracadie, PE)
Community Builder Prize ($10,000): Belle Vue House – A Clear View Into the Future by Belle Vue Conservancy (Amherstburg, ON)
"At the close of five weeks of intense competition, the National Trust is deeply grateful for Canadians' enthusiasm and generosity. This Place Matters 2017 raised awareness and much needed dollars for Canada's historic places," said Natalie Bull, Executive Director at National Trust. "Our sincere congratulations and thanks go out to the community groups championing all 25 projects. Along with the prizes awarded, each project is a winner as they've all raised funds to help regenerate beloved community places that matter."