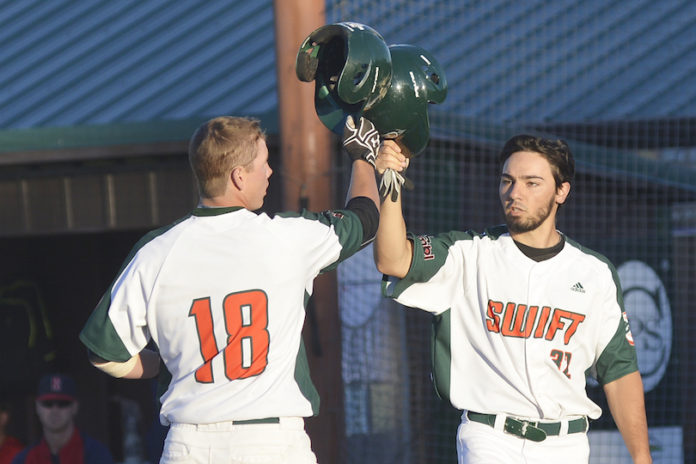 The Swift Current 57's overcame five errors to make up a full game on the Regina Red Sox with a 7-2 win Monday at Mitchell Field.
The 57's had an off night in the field but more than made up for it with strong pitching and timely hitting. Starter Mitch Guiberson had a long first inning when a pair of errors led to two unearned runs, but he got things under control to pick up the win, allowing six hits and three walks while striking out a pair.
Layne Downing added a scoreless inning and Jagger Harjo locked down the win with two scoreless innings.
The 57's tied the game in the second inning when an errant pick-off attempt at first allowed Brett Esau to score from third and Thomas DeBonville somehow scored all the way from first on the same play when the return throw died in between first and home and he trotted home. Matt Bondarchuk quickly singled home John Baiada for a 3-2 lead
Keil Krumwiede gave the 57's some insurance with a two-run home run in the fourth inning, while catcher John Baiada blasted a two-run shot of his own the next inning to close the scoring. The 57's now lead all WMBL teams with 42 home runs on the season.
The 57's improved to 27-15 and are now only a half game behind the Red Sox (27-14) for top spot in the Eastern Division. The 57's have Tuesday off before hosting the Yorkton Cardinals on Wednesday and Thursday.