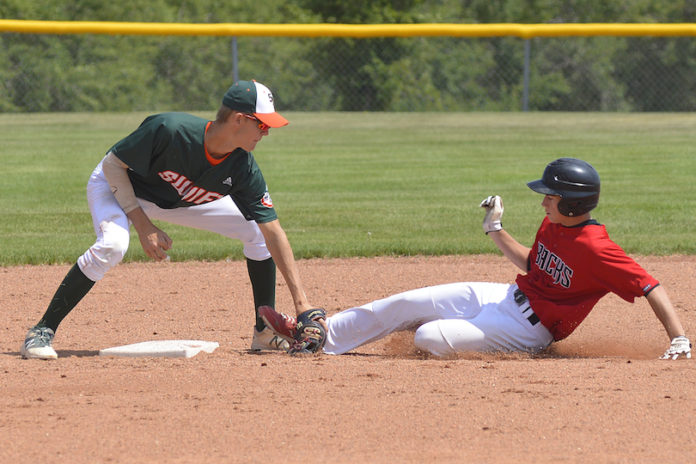 The Swift Current 57's concluded their season with a 1-2 record while hosting the Midget AA Tier I Provincial Baseball Championship over the weekend.
The host 57's dropped their opening game in dramatic fashion Friday afternoon. The 57's led the Midwest Diamondbacks 9-7 but allowed three runs in the bottom of the seventh inning to fall 10-9.
"We had a lead and blew it," admitted coach Ken Wall of the costly loss. "It would have been nice to pitch a little better, but that's the way baseball goes. You have to give them credit, they came up with some key hits and just refused to get put out. Give them credit."
The 57's continued the round robin on Saturday against the Regina Buffalos and won 11-0 to keep their playoff hopes alive. They took on the Moose Jaw Canucks under the lights at Mitchell Field on Saturday evening as their season came to an end in a 12-3 loss.
"We were okay. I think we came out pretty strong the first game this afternoon. We got a really good pitching outing from Charlie Arntsen there. Tonight we just didn't quite have it. Their bats were strong, no doubt. They came out hitting and we didn't quite match it. We ran into a bit of trouble and that's the season."
The 57's finished 10th in the 11-team Saskatchewan Premier Midget AAA Baseball League with a 7-23-1 record playing against the top teams in the province.
"We were really young, so it was a steep learning curve. Playing in that AAA league was definitely I think good for us. It put some kids in positions where they really had to learn. I think for next year we will be a much stronger team. We will be a little older and it should be good," said Wall.
The 57's will graduate three players with Dayne Stenson, Ethan Warkentin, and Ayden Annala all moving on.