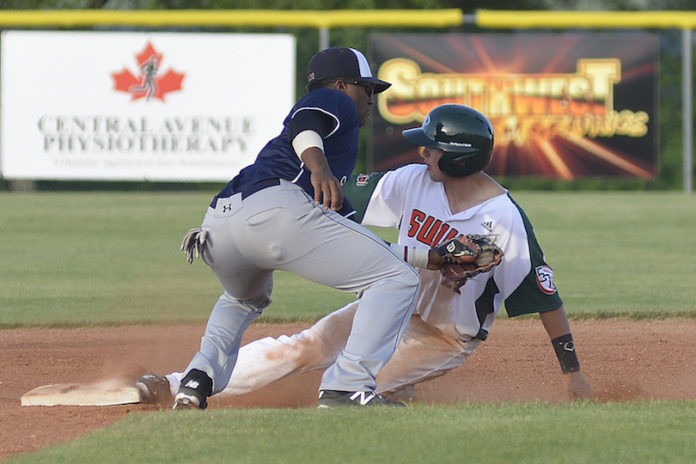 The Swift Current 57's find themselves near the top of the Western Major Baseball League once again as they attempt to defend their 2016 league title. Power, pitching, and plenty of speed have helped the 57's stay near the top of the league. But it has been their unrivaled base stealing abilities that have helped them distance themselves from the opposition more often than not this season. The 57's finished the weekend with 103 stolen bases in 36 games, 37 ahead of the next closest team.
The terror on the basepaths usually doesn't take long to get underway following a game's opening pitch. Infielder Riley Campbell and centre fielder Matt Bondarchuk, who have batted in the top two spots in the order for most of the season, also lead the league in stolen bases. Campbell has 27 stolen bases in 33 games, while Bondarchuk is hot on his heels with 25 stolen bases. Both are within striking distance of Josh Johnson's league record of 38 stolen bases established in 2014.
Bondarchuk had an outstanding debut season with the Cloud Community College T-Birds, where 57's assistant coach Eric Dorton is also an assistant coach. The Edmonton product led the team with a .384 average and stole 24 bases as a freshman.
"Yeah I have the green light. But it is just picking really good counts to go on. But Dorts is usually giving me the steal sign anyway whenever I want to go, we are usually on the same page for that," explained Bondarchuk.
If the threat to steal ended with Bondarchuk and Campbell it would give opposition batterymen a chance to focus on the hitter at the plate. But the threat continues all the way down the line-up. Blake Adams, one of the top sluggers and RBI men in the league, has 14 stolen bases. Outfielder Nick Canas has 10 stolen bases and second baseman Cole Thibodeau, who recently raised his average to .400, has eight stolen bases in 31 games, as does shortstop Grant Van Scoy in 24 games since joining the team. If those six players weren't putting enough pressure on the opposition, the 57's were recently bolstered by the return of outfielder Thomas DeBonville, who led the team with 19 stolen bases in 32 games last season.
Carnahan said his offseason conversations with Dorton resulted a serious increase in team speed.
"We wanted to make sure we had some guys who could put pressure on the other team. He does a great job with the running game throughout games. We have got some guys that can do the kind of things that he likes to do. They have all bought in and as you can see by the results they are all doing a great job," explained Carnahan.
"A couple guys have green lights and then Eric a lot of times does a great job picking spots then with some stuff that we do in practice, some keys that we look for, and guys picked up on it real quick, just some certain situations with the catcher and pitcher that we can take advantage of," said Carnahan.
"It helps us quite a bit. We have a lot of fast guys. Coach Dorts is really good at working with us on stealing bases," added Bondarchuk.
The 57's have already raced well past the 73 bases they stole last season and are showing no signs of slowing down this season on their way to a 24-12 start. Carnahan said that this is easily the fastest team he has coached in Swift Current.
"Yeah by far. We have about six or seven guys that can steal bags. Any time you have that any day you come to the park you are able to generate runs just because speed never takes a day off."
With only a couple weeks remaining in the regular season Carnahan has continued to add players, like the dangerous DeBonville, to add roster depth in preparation for another deep playoff run
"I love it. I feel like we are getting better every day," said Bondarchuk, who added that the goal is to finish first in the regular season to put the team in a good spot to win another championship.