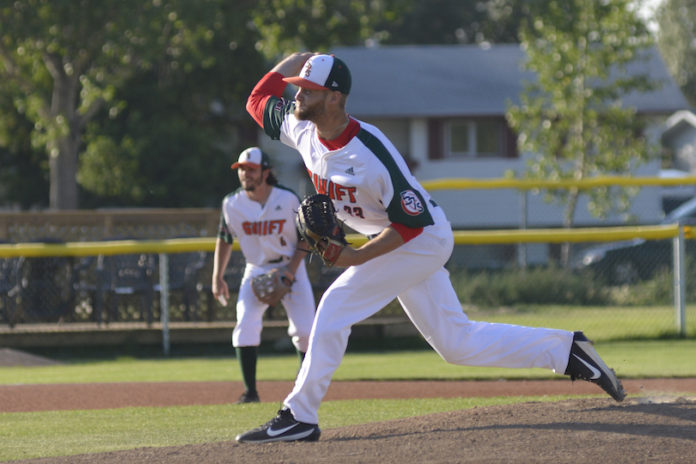 The Swift Current 57's returned to the win column with a tidy 5-1 victory over the visiting Lethbridge Bulls Sunday.
One night after a 12-run inning caused a 14-8 loss to Moose Jaw, the 57's stayed away from a big inning to win their fifth game in their past six outings.
"Yeah we just had one tough inning yesterday, let in a few unearned runs, but it was good to come back today and play some clean baseball," said centre fielder Matt Bondarchuk.
"The guys did a good job," added coach Joe Carnahan. "Yesterday things didn't quite go our way. They were challenged to come out and have a good performance and they did. You have to give them all the credit, one through nine they did an outstanding job and Guiberson did a great job on the mound."
The 57's led from start to finish, beginning in the first inning when Blake Adams tripled home Nick Canas. They added three runs in the fifth inning when Riley Campbell's infield single forced the Lethbridge third baseman to throw the ball wide of first base, allowing both Mason Brown and Cole Thibodeau to score. Campbell quickly scored on a passed ball for a 4-1 lead. They added an insurance run the following inning when Thibodeau singled home Kyle MacDonald.
Mitch Guiberson picked up the win after limiting the Bulls to five hits, one walk, and one unearned run over seven innings. Sean Chandler and Fernando Pena both added scoreless relief innings to close out the win. Lethbridge did bring the tying run to the plate but Pena got the final three outs with the bases loaded.
Brown finished the game with three hits, while Thibideau was two-for-three out of the nine-hole to improve his average to .400, third amongst all WMBL hitters.
The 57's improved to 24-12 to remain first in the Eastern Division, while Lethbridge dropped to 21-16, second in the Western Division behind Okotoks.
The 57's have a well-deserved day off Monday before hosting the Brooks Bombers on Tuesday and Wednesday.