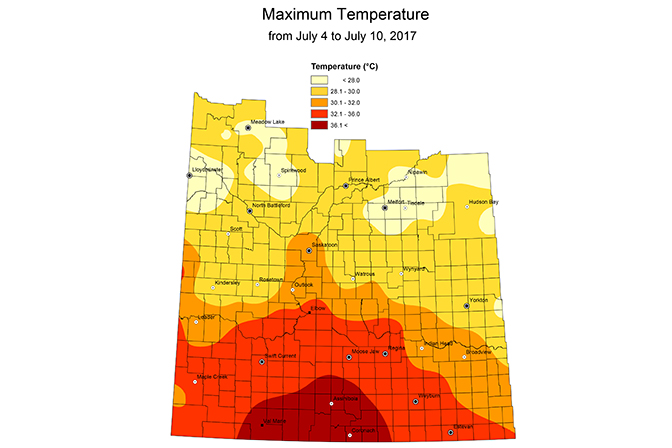 Crop, hay and pasture land across the Southwest remains under stress, with hot temperatures and a lack of moisture impacting the growing season.
The July 4 to 10 Crop Report issued today by Saskatchewan Agriculture highlights that topsoil moisture conditions in the Southwest continues to rapidly deteriorate as a result of hot and dry weather. Topsoil moisture on cropland is rated as 21 per cent adequate, 55 per cent short and 24 per cent very short. Hay land and pasture topsoil moisture is rated as 10 per cent adequate, 58 per cent short and 32 per cent very short. Crop District 3ASW (Coronach, Assiniboia and Ogema) is reporting that 53 per cent of cropland and 50 per cent of hay land and pasture are very short topsoil moisture at this time. Significant rainfall is needed in the region to help crops develop and to replenish the topsoil; however, any rainfall will likely be too late for some areas.
Little to no rain fell in the Southwest during July 4 to 10, however the Climax area reported receiving 25 millimetres of precipitation.
Many areas of the Southwest have not received much more than five to eight centimetres of rain dating back to the start of the growing season on April 1. Many crops in these areas are severely heat-stressed and are thin, stunted and heading out and/or flowering earlier than normal. Crop yield will be affected, especially on crops that were flowering during the high temperatures.
Despite the lack of moisture, the majority of crops are at their normal stages of development for this time of year. Overall, crop conditions range from poor to good.
Other causes of crop damage include hail, wind and insects such as cabbage seedpod weevils, painted lady caterpillars and grasshoppers. Some producers are applying fungicides if warranted by disease pressure. Gophers have also caused some issues.
Many producers have reported that hay yields are significantly lower than normal, with some fields yielding as much as 50 per cent lower yields. An estimated 23 per cent of the hay crop has been cut and 57 per cent baled or put into silage. Hay quality is currently rated as eight per cent excellent, 58 per cent good and 34 per cent fair.
Crop District Rainfall Totals
(Since April 1)
CROP DISTRICT 3ASW
RM #43 Old Post – 64 millimetres
RM #73 Stonehenge (A) – 63 millimetres
RM #73 Stonehenge (B) – 89 millimetres
CROP DISTRICT 3AN
RM #103 Sutton – 47 millimetres
RM #132 Hillsborough (A) – 44.5 millimetres
RM #132 Hillsborough (B) – 125 millimetres
CROP DISTRICT 3BS
RM #17 Val Marie – 20.97 millimetres
RM #18 Lone Tree – 64 millimetres
RM #76 Auvergne – 64 millimetres
RM #77 Wise Creek – 50 millimetres
RM # 78 Grassy Creek – 78 millimetres
RM #105 Glenbain – 51 millimetres
RM #106 Whiska Creek – 97 millimetres
RM #107 Lac Pelletier – 44 millimetres
RM #108 Bone Creek – 61 millimetres
CROP DISTRICT 3BN
RM #138 Webb (A) – 99 millimetres
RM #138 Webb (B) – 79 millimetres
RM #165 Morse – 111 millimetres
RM #166 Excelsior – 73 millimetres
RM #168 Riverside (A) – 85 millimetres
RM #168 Riverside (B) – 76.2 millimetres
RM #226 Victory – 51 millimetres
RM #228 Lacadena (A) – 114 millimetres
RM #228 Lacadena (B) – 6.5 millimetres
CROP DISTRICT 4A
RM #49 White Valley – 59 millimetres
RM #51 Reno – 54.6 millimetres
RM #79 Arlington – 64 millimetres
RM #109 Carmichael – 83 millimetres
RM #110 Piapot – 71.5 millimetres
RM #111 Maple Creek – 74 millimetres
CROP DISTRICT 4B
RM #139 Gull Lake (A) – 58 millimetres
RM #139 Gull Lake (B) – 56.5 millimetres
RM #169 Pittville – 34 millimetres
RM #231 Happyland – 102 millimetres
NOTE: These precipitation amounts represent point locations within each municipality and do not necessarily reflect the whole R.M.