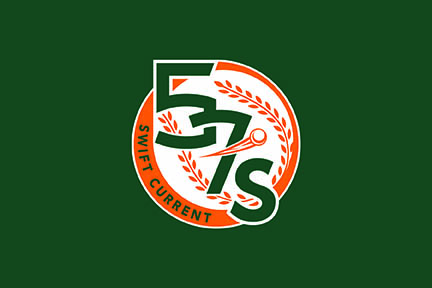 The Swift Current 57's and Edmonton Prospects first meeting since the 2016 championship series failed to live up to the hype Thursday.
The 57's scored 15 runs in the first four innings on their way to a 22-4 win in Edmonton. The 57's knocked a total of 21 hits as all nine starters had at least one hit and scored and eight of the nine starters registered at least one run batted in.
The 57's opened the game with three runs in the first inning, including a Blake Adams two-run single. They added three more runs the following inning, highlighted by a two-run triple off the bat of Nick Canas.
The 57's broke the game wide open with a seven-run third inning, capped by a three-run home run from Kyle MacDonald. The 57's added three runs in the sixth and three more in the seventh inning. Both teams scored in the ninth inning to close the scoring.
Jagger Harjo improved to 2-0 after he held the Prospects to five hits and three runs, only two that were earned, over six innings.
Will Blanchard made his season debut in a relief effort and allowed only three hits and one run over three innings.
Catcher Mason Brown led the offense with three hits and three walks as he scored six runs. Matt Bondarchuk, Canas, and MacDonald all finished with three runs batted in.
The 57's took over top spot in the Western Major Baseball League's Eastern Division with a 22-11 record. Edmonton dropped to 17-15. The 57's will play a fifth consecutive road game when the two teams rematch in Edmonton Friday.