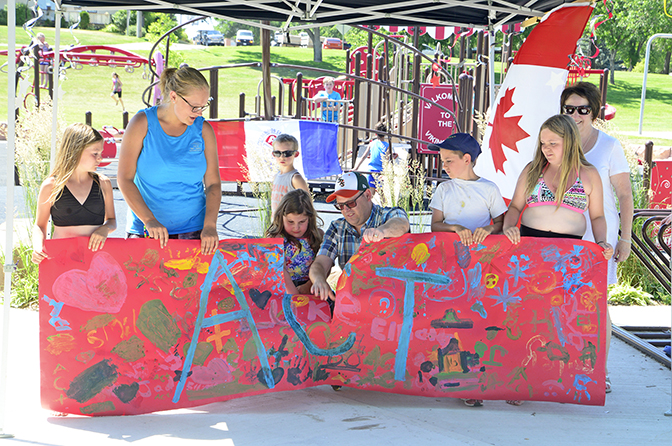 There were lots of smiling faces scurrying around the various play structures and activities hosted during the Grand Re-opening of the ACT Accessibility Park on July 7.
A brief ceremony was hosted this past Friday to officially unveil the second phase of improvements made during a retrofit of Swift Current's first fully accessible park. The park originally opened in 1998 when a wheelchair swing was the main attraction at the park, and it has grown to include a fully accessible playground structure and other features. The second phase improvements provided an off street parking lot and accessible washrooms.
"We have some other components in the other parks…but this is definitely our main park that has all the features and components that will allow a safe environment for the whole family to have an enjoyable experience no matter your mobility," explained Nicole Spenst, Recreation/Scheduling Superintendent with Community Services.
"We're very excited to have this opportunity for families in our community to bring the entire family out to enjoy the parks and green space."
Swift Current ACT/UCT President Michele White highlighted that they are in the third year of a five-year commitment to provide a total of $10,000 to the park.
"I think it's a pretty passionate thing for our whole club," she said. "It's a legacy that's going to be here for a long time. So we've really watched the park grow over the years."
Their support for this park, as well as their sponsorship of the ACT/UCT Swim Club are their two biggest contributions in the community.
"We kind of want to do things that involve children because then there's more accessibility, and we want all the children to be able to participate."
Meghan Lawrence, who visits the park with her six-year-old daughter Madison, appreciates the various park features which make it easy to negotiate in a wheelchair.
"It's lots of fun. There's a lot of that new structure that she can access with her wheelchair, and easy enough too to get out and climb around like every other kid."
The City received support through the federal government's Community Initiatives Fund to assist with the costs at the $575,000 park. That funding helped them provide features like a pour n place surface, connecting pathways between the park features, and additional features.