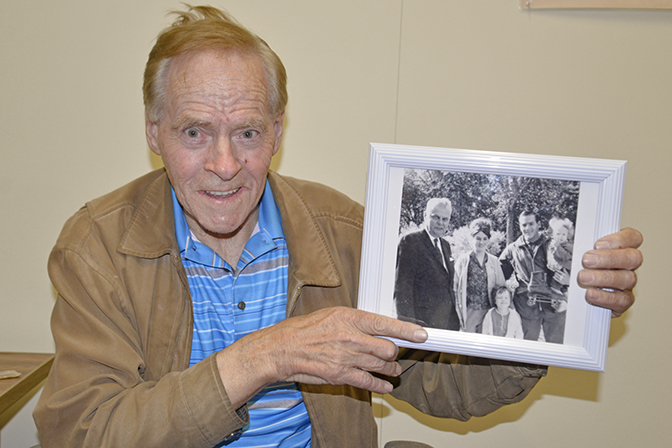 Clint Shaw is currently retracting the route of his inspired roller skating trip across the country for Canada's 100th Centennial in 1967.
Shaw rolled into Swift Current on June 30, but this time it was at a much leisurely pace than what endured during his roller skating effort which began on April 1, 1967 in Victoria. He was on the road for over six months and took the winter months off before he finished the endeavour in the fall of 1968.
He said he was inspired to make the trip after viewing a television commercial in advance of Canada's Centennial which asked the viewers "What are you, proud of being a Canadian, going to do to for Centennial?"
After ruling out the traditional ways of travel, he had a flash back to being a child of five years of age with steel wheeled roller skates. So, after 20 years of not having roller-skated, he put plans in place to make the trip along with his wife and children who were aged one and three.
He enjoyed some special treatment during that trip, being bumped to the front of the line at Expo '67, visiting the centennial helicopter and centennial train, plus meeting both former Prime Minister John Diefenbaker and then Prime Minister Lester B. Pearson.
"And then to meet your fellow Canadians. You never would have. You can't live in Calgary all your life and meet every Canadian. But when you go across and see the country you never saw – the Maritimes, and how nice the people were, Prince Edward Island how beautiful."
Shaw also roller skated across the United States in 1974, where he enjoyed bigger celebrity status by appearing on Hollywood Squares and the Joey Bishop Show. After getting his name in the Guinness Book of World Records for those two long distance skates, he also set a longest consecutive skating record a few years later.
Shaw will be sticking to the TransCanada Highway on the way east, but on his return home he is looking forward to taking a more scenic route and seeing more of the country.