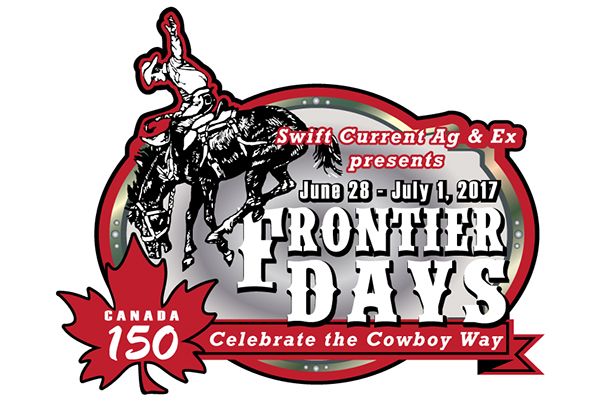 From early morning until late at night, Swift Current will be celebrating Canada's 150th anniversary in a big way.
July 1 promises to be a full day, starting with the opening of Market Square plus the Frontier Days Canada Day Parade both scheduled for 10 a.m.
The theme of the Frontier Days Parade is Canada is 150 Celebrate Your Way, and organizers are expecting a lengthy parade. There were over 100 entries two weeks in advance of the final registration deadline.
"We're celebrating The Cowboy Way. So lets see everybody celebrate their way, because we have lots of heritage and a lot of tradition in this area of the province," explained Swift Current Ag and Ex General Manager Tracey Stevenson.
Respected rodeo pick-up man Wade Rempel, who hails from Kyle, will serve as Parade Marshall this year.
The parade again forms up at the Innovation Credit Union iPlex and travels west along Chaplin St. to Elmwood Park, before moving into the downtown core along Herbert St. E. The largest turnout of spectators is again expected along the parade's two block route along Central Ave. N. The parade then turns on Cheadle St. to connect with the 2nd Ave. overpass before completing along their traditional finishing Central Ave. S. location.
Noon will feature a celebratory flag raising ceremony at Memorial Park, complete with speeches from dignitaries, and music provided by members of the Swift Current Shrine Band. A free hot dog and cake luncheon will be served following the ceremony.
The final downtown showcase event on Canada Day will be a free 3 p.m. concert at Memorial Park featuring Rah Rah from Regina.
The band has been featured on the first five SaskMusic In Tune compilation CDs, earning wider exposure for their singles Duet for Emmylou and The Grievous Angel (2010), Arrows (2011), First Kiss (2013), The Poet's Dead (2014), and Be Your Man (2015). Rah Rah were also 2014 Juno nominees in the Alternative Album of the Year category for their CD The Poet's Dead. Their latest album Vessels, which features the single Chip Off The Heart, was released in September 2015.
There will also be a series of Canada 150 celebration events in conjunction with Frontier Days.
At 2 p.m. the final performance of the Canadian Cowboys' Association will be held in the Jerry Myers Arena. Rodeo competitors will have set the times to beat during performances on Thursday, June 29 (7 p.m.), and Friday, June 30 (slack rodeo at 1 p.m. and regular performance at 7 p.m.), so there are bound to be some exciting performances during the final chance to win prize money.
Country music fans will enjoy the Canada Day grandstand entertainment at 8 p.m. featuring headliners Sawyer Brown and opening act Arron Goodvin.
Sawyer Brown will close out Frontier Days with a grandstand performance, with Aaron Goodvin opening the evening of country music.
Sawyer Brown boasts over 20 studio albums during a performing career which was launched into high gear after winning Star Search in 1983. The country rockers have released chart topping hits Some Girls Do, Step That Step, Thank God for You, and they boast a long list of top five singles, including: The Race Is On, The Walk, All These Years, Cafe on the Corner, Trouble on the Line, The Boys and Me, Hard to Say, I Don't Believe in Goodbye, This Time, Treat Her Right.
They were named the Academy of Country Music's Top Vocal Group in 1996 and they received a total of 13 nominations between 1985 and 2000.
Sawyer Brown's line up of Joe Smyth, Gregg Hubbard, Mark Miller, Jim Scholten and 2004 addition Shayne Hill continues to fill venues across North America.
Goodvin broke onto the scene with the release of his debut self-titled album in April 2016, and he hit the charts with the singles Knock on Wood and Woman in Love.
Goodvin's latest single Lonely Drum was ranked fourth on the iTunes top selling Country singles chart this week.
There will be a colourful finale to Canada Day, with the Living Sky Casino Fireworks Show scheduled for 11 p.m.