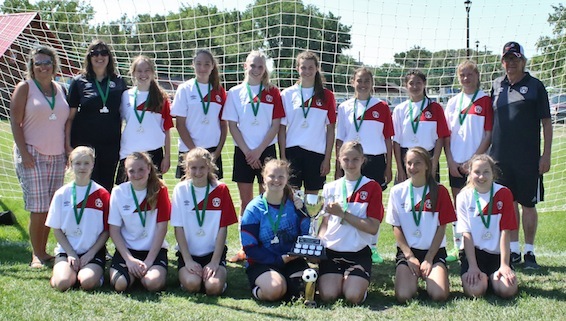 The Swift Current United Under-16 Girls won three of four games to win Provincials at home over the weekend.
They opened the tournament Friday with an 8-0 win over the Moose Jaw Storm. Allison Wall, Jannae Carlson, and Haylee Rogers each scored twice, while Bryn Haubrich and Taylor Kohls added singles. Juliana Whalen picked up the shutout in goal.
They evened their record Saturday morning when a couple of momentary lapses in the defensive third resulted in a 2-0 loss to Saskatoon's Aurora Majestic.
They rebounded Saturday afternoon with a 3-0 win over Regina's QC United to clinch a spot in the gold medal match. Aleah Nickel scored twice and Kohls added a single.
The U16 United Girls got a rematch with the Aurora Majestic in Sunday's championship match and controlled play for most of the match on their way to a 3-0 win. Nickel scored the opening goal for a 1-0 halftime lead and then Carlson scored a pair of breakaway goals in the second half to seal the win. Whalen added her third shutout of the tournament.
The U16 United Girls were also the recipients of the Sportsmanship Award as voted on the match officials. Carlson took home tournament Most Valuable Player honours after scoring four goals over the weekend.