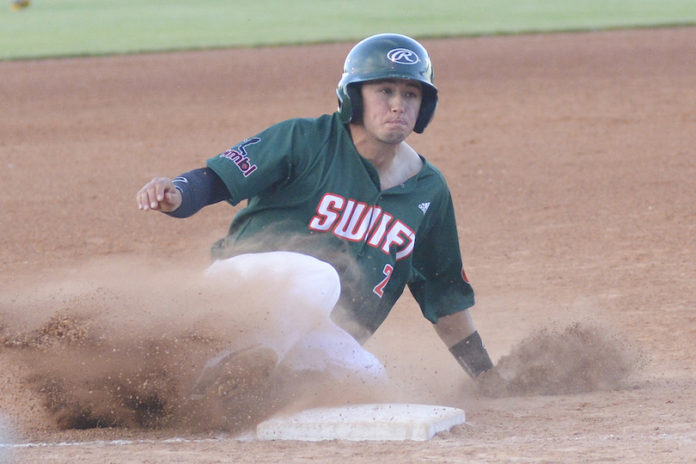 The Swift Current 57's snapped out of an uncharacteristic slump by sweeping the visiting Medicine Hats Mavericks in a double header Wednesday. The 57's snapped out of their three-game losing streak with a 4-1 win in the opener.
The 57's trailed for much of the game but took the lead for good in the fourth inning when Kyle MacDonald doubled and scored on a Riley Campbell single and then Cole Thibideau singled home Grant Van Scoy.
They added an insurance run in the fifth inning when Van Scoy hit a sacrifice fly to plate Blake Adams. They closed the scoring in the sixth inning when Matt Bondarchuk singled home Keil Krumwiede.
Garrett Goodall got the win with five innings of one-run ball, allowing two walks and three hits while striking out three. Aiden Goodall got the save when he came on with the bases loaded and got the final two outs without allowing a run.
The 57's got another quality start and ran their way to an 8-4 win in game two. They took the early lead when Bodie Cooper hit a solo home run in the first inning. They added a three-run second inning when Thibideau hit a two-run double and then scored on a Bondarchuk double for a 4-0 lead.
They manufactured the winning run in the fourth inning when Nick Canas was hit by a pitch, stole second and third base, and then scored on a Ben Andrews sacrifice fly.
Bondarchuk finished the game four-for-four with a stolen base and two runs batted in, while Thibideau was two-for-two with a walk, a stolen base, three runs scored, and two RBI at the bottom of the order.
The 57's stole another five bases in the game and continue to lead the league with 68 stolen bases in 21 games.
Dustin Wells made his season debut and got the win with five innings of one-run ball, allowing only four hits and one walk while striking out four.
The 57's improved to 13-8, including a 9-3 record at home, while Medicine Hat dropped to 11-11. The 57's will be in Regina to face the Red Sox on Thursday and Friday to open a stretch of four straight road games.