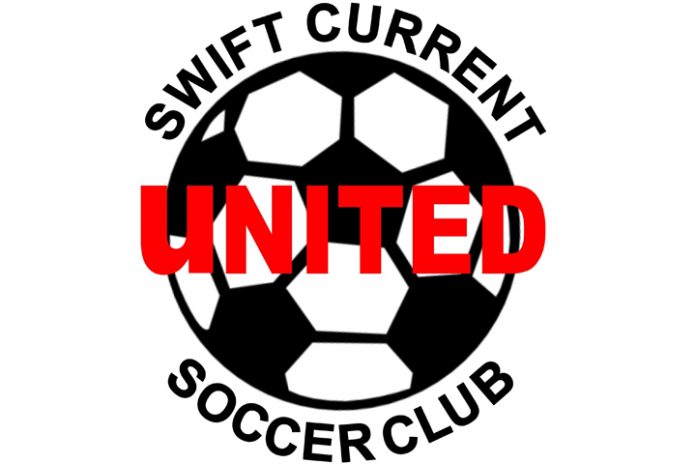 Three Swift Current United Soccer Club teams will have the opportunity to compete for provincial supremacy on home turf this season, while another will head out on the road for Provincials.
Swift Current will be the site of the Soccer For Life 11-Aside Female Outdoor Youth Provincial Championships from Friday until Sunday. The tournament will feature five U14 teams, four U16 teams, and three U18 teams with Swift Current United teams competing in each age category.
"I think all three teams are poised to do well at Provincials and they all will be in the medal hunt," noted Swift Current Soccer Association Technical Director Dale Perry.
The U14 United Girls will face competition from Saskatoon, Weyburn, Lloydminster, and Prince Albert. They open the round robin Friday at 3:30 p.m. against Saskatoon's Aurora Concordes at Ashley Park Field. Saturday, the U14 United Girls will battle the Lloydminster Drillers at 8:30 a.m. at Ashley Park and the Weyburn Jr Red Devils at 6:15 p.m. They will conclude the round robin on Sunday at 8:30 a.m. at Riverside Field against Prince Albert Celtic.
"The U14s have made major progress from the beginning of the year, culminating with a gold medal performance last weekend at the Eastside Copa tournament in Saskatoon. Over the past month their defensive game has become extremely strong and they are starting to find the back of the net. They are up against some strong teams, but if they play to their strengths they should do well," said Perry.
The U16 United Girls will open the round robin on Friday at 5:30 p.m. at Riverside Field against the Moose Jaw Storm. Saturday, they will face Saskatoon's Aurora Majestic at 9:45 a.m. and Regina's QC United at 5 p.m. The championship match will be Sunday at 10 a.m. at Riverside Field.
"The U16s have won gold at three of the four tournaments they attended this year with their only loss coming at the Harder Avalon which was won by the Aurora Majestic. The Majestic are coming to Provincials without having lost a game this year. This division will have some good battles," said Perry.
The U18 Girls will open the tournament on Friday at 3:30 p.m. at Riverside Field against Yorkton United in a rematch of the 2016 provincial final. They will also face Battleford United FC that night at 8 p.m. The semi-final will be Saturday evening at 7:30 p.m. with the final slated for Sunday at 11:30 a.m. at Riverside Field.
"The U18s are the reigning provincial champions and will be in a dogfight with their arch rival from Yorkton. The teams split their two meetings this season, so the gold is up for grabs," said Perry.
The Swift Current United U14 Boys will take part in provincials in Saskatoon the same weekend.
"Consistency will be the key to our success at provincials," said coach Geoff Horn. "We have a team capable of winning the tournament but we've shown two sides this season; one which can be at times impossible to play against and the other where we are nowhere near our best. If we show consistent performances then we will be a real threat."
Assistant coach Levon Majeran Findlay will be leading the team and Horn has full confidence that he will get the best out of them at Provincials.
"We've shown quality in attack and have only had one competitive game where we failed to score. Our defending will need to be the main focus. We have an excellent goalkeeper and more than capable defenders but at times lose the battle in the midfield. Our shape and our movement in recovery when losing the ball needs to improve if we're serious about winning. It is all down to hard work and who wants it more," added Horn.