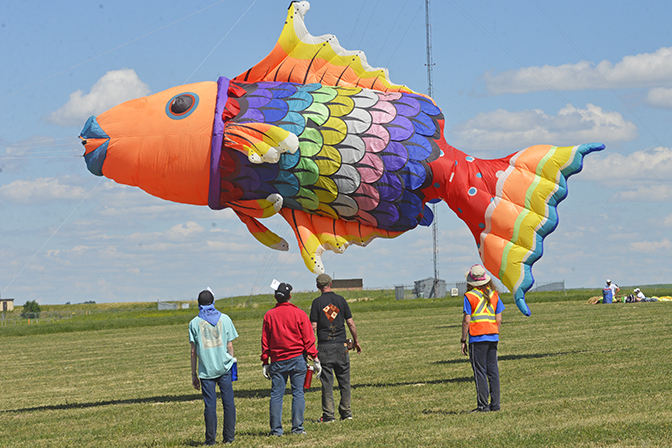 Thirteen was a lucky number for attendance totals at the SaskPower Windscape Kite Festival on June 24 and 25.
The 13th annual festival set a new single day plus a new weekend attendance record.
Festival organizer Shann Gowan confirmed that slightly more than 6,500 turned out while setting a single day attendance record on Saturday, and with an additional 4,000 people on Sunday they topped the 10,000 attendance mark.
Ironically, the wind did not fully cooperate with Windscape, with winds dropping below 20 kilometres per hour for early Saturday and longer stretches on Sunday.
"We always tell them to prepare for really high winds, and we didn't have any. They brought what works in really high winds, and then we had not enough," Gowan laughed about the pre-festival advice they offer to participants.
"But we had kites up most of the time. The big guys go up and down, but that's what a kite festival is all about. We don't have winds that stay steady, we have up and down, good and bad, all in one day."
Gowan noted she made a strong advertising push in Alberta, and she was pleased the event attracted a strong out-of-province crowd.
"We had way over half from out of town," she said.
Gowan was also generally pleased with the crowds attending the Long Day's Night Music Festival on June 22 to 25.
"We had good nights. Great music. I think everyone that was there loved it."
However, attendance lagged during the festival finale featuring Leeroy Stagger.
"He is an amazing artist…his songs are beautiful. But people weren't here, and that's too bad. All of us that were here loved it."
A festival highlight was Saturday's performance by the Joel Plaskett Emergency, and one-quarter of the crowd were out of town visitors.
"It was also nice to have Skavenjah. They were at my very first festival, and so it was great to have them back. They were great."