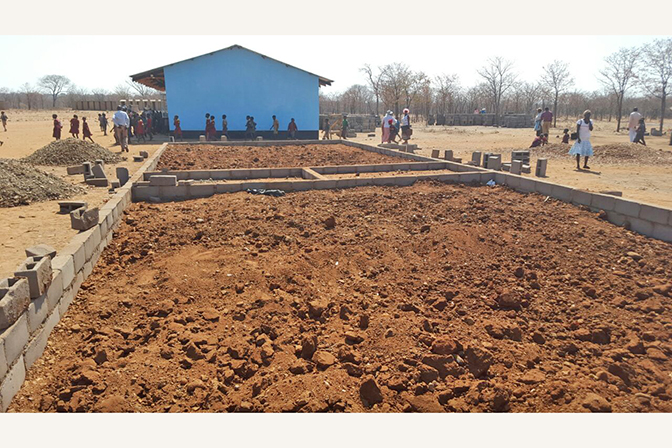 SwiftLink is hoping to build on their success in helping children in Brazil into helping a transplanted City resident make a difference for students in his home country of Zimbabwe.
Collin Nyabadza has partnered with SwiftLink in hopes of raising $20,000 in order to build two classrooms for the Sishawe Primary School in Zimbabwean. The Collin Nyabadaza Children's Voice Charitable Trust has been successful in securing funding to build the building slab, and he is now focussing fundraising efforts on completing the school building.
He notes that the school is located in a region of very low rainfall where families survive on agriculture.
"But they just get barely enough just to feed themselves. They don't even have extra to sell so that they can help fund the schools. But they are very determined."
He feels a sense of urgency to complete the project, as the existing classroom is in a dilapidated condition.

"It's a death trap, meaning if big storms will come today, it could collapse at any given time."
SwiftLink began in November 2014 and was successful in supporting children in the community of Bom Jardim, Brazil through a close partnership with World Vision.
"We are very proud of the work we did there, the partnership and the response from our community. We received 160 sponsored children in the community of Bom Jardim, Brazil. Obviously, that's made a huge impact, and we're very proud of that work," admitted SwiftLink committee member Val Choo-Foo.
The SwiftLink committee felt that they should be highlighting other impactful project which are being driven by individuals and groups in the community.
"Our hope is that a few people might get a little bit excited about this project and a little bit interested, and maybe it could draw in a few donations." Anika said.
SwiftLink is also hoping to shine a further spotlight on some of these impactful projects by hosting a Charity Expo on October 28 at the Swift Current Mall.
"There's so much good work that goes on that I don't even know if we all understand how many organizations and charities are doing great work," Choo Foo said.
The Charity Expo will be a chance for these various charities and organization to share information with the public.
Nyabadza has received a series of boosts to his fundraising efforts over the past few weeks. He was presented $2,000 from the SwiftLink committee. The We Club at Ecole Centennial School raised $245.31, and this motivated the Rotary Club of Swift Current to match that amount for a total donation of $490.62. A local Rotarian then added $1,000 to this to generate a total of $1,490.62. He noted this money will be used to purchase bags of cement in order to put up classroom walls.

Nyabadza's Foundation started out providing scholarship and then moved into providing classroom equipment, classroom furnishings, computers and sport equipment.
He has been a Canadian resident for the past 17 years, and has lived the past number of years in Swift Current.
He is excited by the prospect of building an important classroom facility in Zimbabwe, as it will raise the bar for his efforts as the first school construction project they have undertaken.
"This particular project is the first one, just because we haven't had the funding before to build classrooms. But it's something that has always been on our agenda."
"If it's successful it's going to be our signature mark."
For more information on any of the SwiftLink projects or events, contact Imagine Immigration at 306-778-4041 or email anika@imagineimmigration.ca.