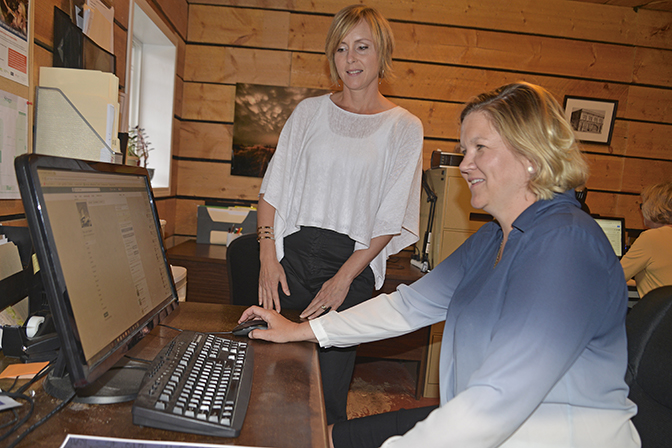 Online voting support and fundraising contributions are needed to help further restore Swift Current's grand ole Lyric Theatre.
Swift Current is one of 25 communities vying for a share of a national prize during the National Trust for Canada This Place Matters competition. The Lyric Theatre project is one of just two Saskatchewan projects and one of only six project west of Ontario entered into this year's competition.
The theme of the project is The Spirit of the Lyric, and voting is open now at thisplacematters.ca. Supporters can set up an account connected to each email account they have and vote once every 24 hours.
"To us the Spirit of the Lyric meant so many things. The Lyric has been around since 1912. There's so many good memories of people that have met their husband here in the theatre, people who have got married here, people that have performed for the first time. So there's a lot of spirit here, a lot of community spirit," said Lyric Theatre Program Manager Corla Rokochy.
Projects are awarded points based on online voting plus crowdfunding support during the This Place Matters contest which runs from June 15 to July 17.
"We're really excited about this contest," explained Denise Wall, President of the South West Development Group which oversees the Lyric Theatre. "I think everyone in Swift Current could say that the Lyric matters to them in some way."
The Lyric Theatre could win the national grand prize of $60,000, and they are in the running for the top regional prize of $30,000 or the regional runner-up prize of $15,000.
More importantly, as the second phase of a main capital fundraising campaign, the Lyric Theatre will benefit from renovations and improvements to the second floor of the building.
During a tour of a bare upstairs space, they announced their intention to refinish the flooring, make washroom improvements, and complete other work to attract tenants into office or retail space, plus to develop a location for musicians and artists. There are plans to move their office space onto the second floor instead of being squeezed into an already cluttered main floor.
"A lot of time we find that we're storing tables and chairs and things in our office, so it can be a bit of a dangerous space for the staff. So we're trying to alleviate that at the same time," Rokochy said.
Wall reflected that this new phase was made possible by the successful initial phase of their Lyric Theatre renovation efforts.
"Now that the building is structurally sound, and it doesn't leak any more…that's where all of the money from the first campaign went. Those were the most important dollars, because now we have a building that we can do something with. So I think it's very exciting the potential that we have for the upstairs. It's just a whole other aspect of the building that nobody sees. We could do many things up here."
"Within a year we will have people up here," Wall said. "It's nice that we have a base to begin with already. And then this contest, we're going to win it, and then that'll be the next motivator step. And then we'll just continue the next campaign on from there."
Supporters are invited to log into thisplacematters.ca and start sharing their excitement for the contest.
"We're asking you to spread the word and just get the excitement going and get people voting every day, or donating."