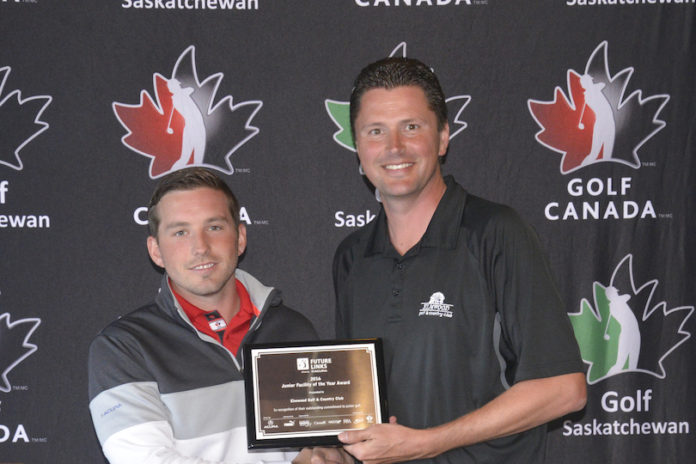 In the midst of a massive renovation project, the Elmwood Golf and Country Club and Head PGA of Canada Professional Jeff Chambers were named the Future Links, driven by Acura, Facility of the Year. Elmwood and Chambers were recognized for their dedication and excellence in junior golf.
"It is great. Elmwood has supported junior golf ever since I have been here. They have allowed me to do whatever I want to do to grow the program, right down to closing the golf course at nights for big junior wind-ups and using the driving range on weekends for lessons. That's not normal for clubs to do and they love it, they do that for us," said Chambers shortly after accepting the award. "This award is for Elmwood showing wow thanks for letting us do so much work with junior golf. It means a lot."
Adam Hunter, Manager of Junior Programs for Golf Canada, pointed out Chambers' engagement with the school system as one of the key factors in the win.
"Throughout the whole winter he's in a number of different schools in Saskatchewan and that's really what separated Jeff from the other candidates. Everyone was well deserving, but Jeff really goes above and beyond to introduce golf in the school system."
Hunter was very familiar with Chambers' work in junior golf.
"Ever since I started with Golf Canada seven years ago I've been working with Jeff to grow junior programs here at Elmwood. Really ever since Future Links, driven by Acura went through a revamp in 2009, that's really when Jeff started excelling within Future Links."
One of the guests of honour at Sunday's ceremony was Swift Current Mayor Denis Perrault.
"We are so, so very fortunate to have in our community somebody like Jeff with his partner Carrie, and all of his team that go out of their way on a daily basis to make golf fun for all for all ages," said Perrault.
Perrault pointed out that Chambers had grown the Future Links program by over 500 percent over the last 10 years at Elmwood.
"It's a testament to the learning experience that you are able to offer to all the kids here at this wonderful facility here at Elmwood," he added.
Chambers said it is the club's commitment to junior golf that keeps him around.
"I've had lots of job offers for other places, but I never know if they are going to support me and the junior golf program as much as Elmwood. So I love staying here and working with it. It has been unreal."
"I have enjoyed working with kids ever since I was able to start coaching. By the time I was 16 I was coaching hockey, so I did that for six years. I have coached curling and I have coached golf obviously. I just find it is so rewarding to teach kids because they just light up. It is just fun," said Chambers.
Chambers explained that normally the award is just handed over after a press release. Sunday's ceremony was preceded by a skill competition for the next generation of future stars.
"There was over 40 kids just loving life out there and getting to showcase their skills. The parents loved it. It was a showcase of golf talent, which you don't normally get to see. It was a lot of fun to tie it all in."