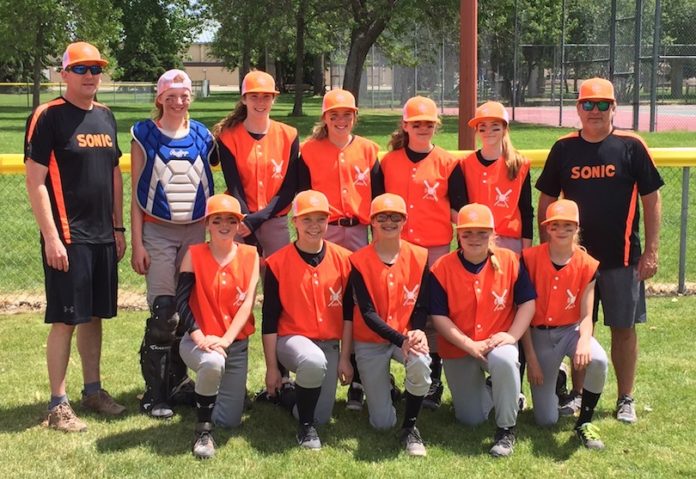 The U14 Swift Current Sonic Softball team travelled to Medicine Hat for a U16 Softball tournament June 9-11. This was the first weekend of play for the Sonic as they prepare for the Softball Saskatchewan Pee Wee C Provincial Championships in Biggar on July 14-16.
The Sonic opened the tournament with a 22-6 win over a U16 team from Calgary. On Saturday the Sonic faced the U14 Lomond Black Diamonds. The Sonic started slow, trailing 12-2 after two innings, but fought back to get within two runs, losing 12-10.
Saturday evening the Sonic faced the U14 Ponoka Crushers. The Sonic again started slowly and again could not overcome an early deficit falling 18-12.
The Sonic finished in a three-way tie for second place with a record of 1-2, but won the tie breaker and advanced to the tournament semi-final against the U16 Medicine Hat Thunder. The Sonic had one bad inning and fell to the more experienced Thunder 8-1. Next action for the U14 Sonic is June 18 when they travel to Weyburn for a double header.