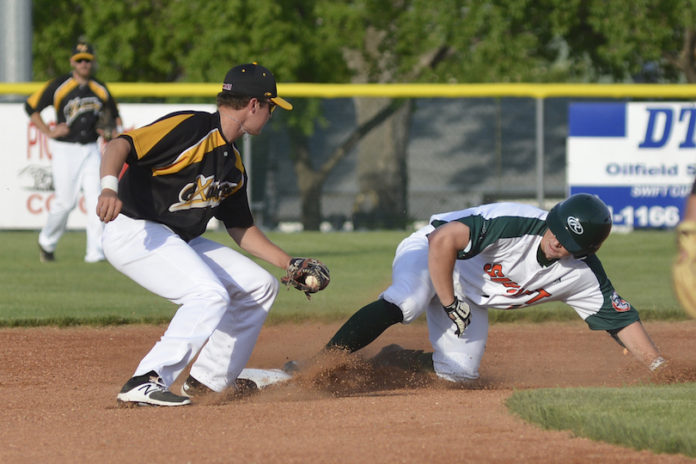 The Swift Current 57's made up for a sloppy night in the field with good base running to win their Western Major Baseball League season opener 3-2 over the visiting Moose Jaw Miller Express.
The 57's made five errors over the opening four innings, but returning ace Bobby St. Pierre pitched around them to get the win. He allowed only two hits and one unearned run while striking out five without a walk over six innings.
Trey Taylor and Aiden Goodall each made scoreless relief appearances to get the 57's to the ninth inning with a 3-1 lead.
Layne Downing allowed the first three batters to reach base in the ninth inning as the Express cut the lead in half, but he got the next three outs with a storm rolling into Mitchell Field to lock down the save.
The 57's finished with 10 hits, but stranded 10 runners. They made up for it with three stolen bases that eventually turned into runs.
Meadow Lake's Brett Esau led the 57's at the plate as he finished three-for-three with a run scored, a stolen base, and two runs batted in as he was on base all four times.
Leadoff man Matt Bondarchuk also singled twice and scored, while second baseman Riley Campbell had a two-hit night, including a triple that displayed his blazing speed.
The 57's tied the game in the fourth inning when Esau was hit by a pitch and stole second before scoring on a Mason Brown single. They took the lead the next inning when Campbell singled, stole second, and scored on an Esau single.
The host team added the winning run in the eighth inning when Bondarchuk singled, stole second, and scored on an Esau single.
The 57's are back at Mitchell Field Saturday to host the Melville Millionaires.