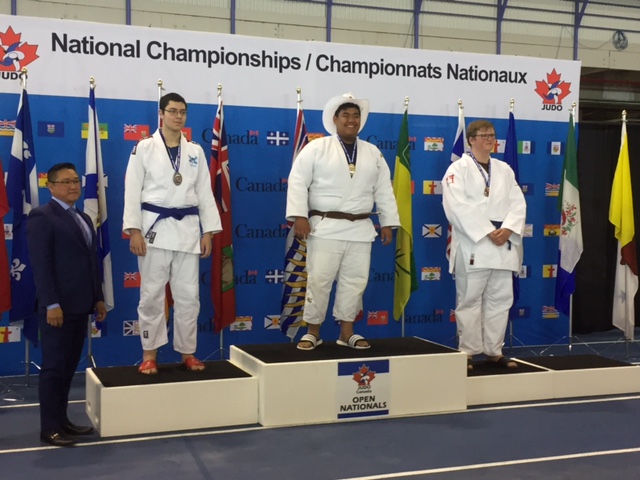 Swift Current's Toru Iwaasa won three of four matches to bring home gold from the 2017 Canadian Open Judo Championships in Calgary.
Iwaasa finished with a 3-1 record in the U18 M90+ category to come out on top of the five-man round robin event.
The Swift Current Judo Club member lost his opening match to Quebec's Xavier Coutu, but responded with three straight wins to claim gold. He rebounded with a 4-3 win over British Columbia's Tigran Ghasumyan, followed by a 4-1 victory over Wilson Elliot from the Northwest Territories. He clinched the national title with a 4-2 win over Nova Scotia's Alex Hennebury.
"I was actually surprised," said Iwaasa. "I was really happy with the results I got. I think a lot of the time I was just hoping that if I can medal, but bringing home a gold medal was just an awesome feeling."
Iwaasa, 16, has been to nationals twice before. He finished with two wins and two losses on his first attempt and then moved up to the U18 category and didn't fare as well last year.
"I had more training this year. I trained a lot harder and I guess something clicked that I wanted to do a lot better," he said of his improvement during his ninth year of judo.
Nancy Filteau has been with the club for the past five years, and along with wrestling coach Dan Marchand, has been helping train Iwaasa.
"I was pretty proud of him. I was pretty excited for him. I think it could give him more incentive to want for more things and to see how much more he can go in judo. He is still fairly young. I see a good future for him if he wants to continue and train hard," she said.
"He went out there and was determined and everything else. He was in the right frame of mind. He had put a fair amount of time in, he could probably still put extra time in, but I know in the school break he spent a week in Lethbridge training and we have been trying to get as much training in in Swift Current. When he got there I was pretty confident that he might medal. I wasn't sure that he would get a gold medal but I was pretty excited for him when he did win."
Filteau is a former national champion and Olympian.
"Definitely Nancy helps me with my judo a lot. She is a previous Olympian, so she helps me with a lot of my cardio and a lot of knowing what to expect, even internationally, and just how to become a better athlete as far as diet and everything," said Iwaasa.
Iwaasa will now represent his country at the 2017 Junior & Cadet Pan-American Championships in Cancun, Mexico this summer.