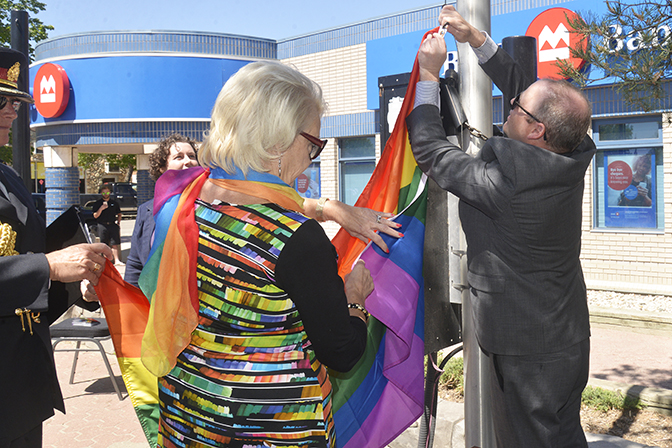 The Pride rainbow flag was raised above Market Square during a historical ceremony in Swift Current on Monday.
As was frequently mentioned during a lunch hour ceremony, the flag raising reflects shifting attitudes towards the LGBTQ (Lesbian, Gay, Bisexual, Trans and Queer) community in Swift Current.
Lieutenant Governor of Saskatchewan Vaughn Solomon Schofield spoke before the flag raising about the importance of the day.
"As mentioned, change is often slow in coming, but we must never, ever forget how far we've actually come. And the reason we've come so far is thanks to all the courageous members of the LGBTQ community who have faced rejection and prejudice, share their stories and share their lives. You are deeply, deeply inspiring to me, and I thank you all for making our communities that much better."
The Lieutenant Governor admitted there is still lots of work to be done in order to create truly inclusive communities, but she is grateful for the allies who support this mission of public education and transformation.
"Pride Week is about celebrating the diversity that makes life so wonderful. It's about bringing people together to create understanding. It's about eliminating fear. And Pride Week is about creating a country where we can all say this is who I am and I belong here."
Andrea McCrimmon, chair of Southwest Saskatchewan Pride, said there has been overwhelming response since the unveiling of the list of events for Swift Current's first ever Pride Week.
The goal of the week is to bring visibility to Swift Current's LGBTQ community, and highlight the city as an inclusive and diverse community. However, McCrimmon said that some people remain hesitant in supporting the initiative.
"Many people say that they have no problem with LGBTQ people, but wish that we 'wouldn't be in their faces' about it. I would like to explain what that's problematic.
"Being hidden within our community is damaging. And being silent about our lives creates shame. And in 2017, the time for being hidden away is over. And the idea that we should feel ashamed is not true," she said to loud applause.
"We are privileged to live in a country where gender and sexual diversity is protected under the Human Rights Code. And we cannot take that privilege for granted."
"The visibility of our LGBTQ community is important in small cities like Swift Current and in rural Saskatchewan because it has a protective effect on other members of our community, and it creates a safe space where people can be themselves no matter their gender identity, or sexual orientation. And the broader community becomes more willing to stand up to protect their LGBTQ friends, neighbours and family members, both here and around the world, from harassment, violence, discrimination and exclusion.
"And we are here today in Market Square to demonstrate that small towns like Swift Current have prominent LGBTQ role models and community leaders, and we have the support of our city and of our community."
Swift Current Mayor Denis Perrault said the City was honoured to have officially proclaimed Pride Week during their past Council meeting. He pointed out the initiative to install Saskatchewan's first permanent Pride crosswalk has attracted national coverage.
"Swift Current is a progressive community that celebrates diversity and supports all of its people. We're so proud to be a safe and caring community, and we believe that today and this week helps us achieve that end," Perrault said.
He saluted Southwest Saskatchewan Pride for their leadership and vision and tireless efforts in making Pride Week 2017 a reality in the community.
"I do really hope that the progress we've made together spurs on similar efforts in cities across Saskatchewan."
McCrimmon added that the week is taking ground breaking steps towards making Swift Current a safe and inclusive community.
"The rainbow crosswalk is a powerful symbol that things are changing for the better in Saskatchewan."
She said this shift in attitude is not just occurring in large centres, but is also becoming a reality in small town Saskatchewan.
"It's OK to be yourself. We are here to support each other in building a diverse and inclusive and safe community for everybody."