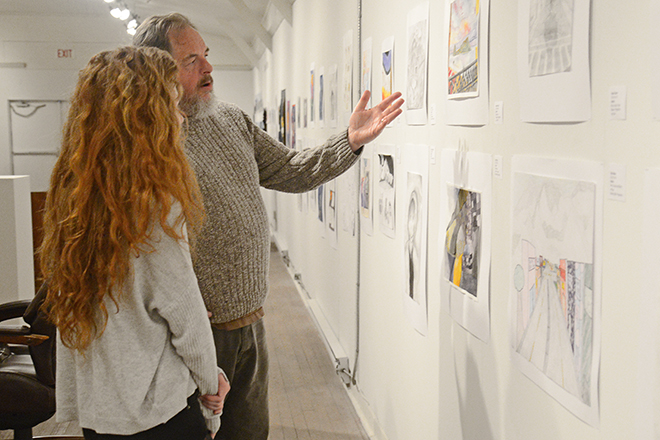 A proud group of student artists excitedly scanned the walls of the West Wing Gallery to locate their artworks during the opening reception of the School Art Show 2017.
An opening reception was hosted on May 9, with the public and the students getting a first glance at the diverse artworks submitted from students across the Chinook School Division.
Kim Houghtaling, Director and Curator of the Art Gallery of Swift Current, knows that exceptional young artists who create their works in solitude deserve a chance to be rewarded for their efforts.
"Visual arts is a quiet activity, and as a result it's not like a performance on a stage or making lots of baskets at the basketball game. When are you acknowledged or when do you get to share what you're good at and what you've done well? And so an exhibition like this is a great opportunity for visual art kids to kind of shine," he said following the 90 minute reception.
"I'm glad they're proud of it and I'm glad they're excited about being involved."
This gallery opportunity is an important step for young artists, many who are considering exploring fine arts as a career. Having eyes on their work takes the expression behind their art to a different level.
"Even though they may not necessarily talk to their audience, they know that an audience has looked at their work and they know it has been elevated, put on a wall, presently nicely, and that people are appreciating it."
A gallery exhibition of student art is a rare opportunity that does not happen in a lot of communities. However, Swift Current's public gallery program affords students with this opportunity and the city has a facility to showcase their submissions..
"This is a good venue for it. It's the right scale. It's easy to present the work in this room. And it has a nice feel."
The largest portion of the works are from students from the Swift Current Comprehensive High School, but students from Gull Lake School are participating for a second year. There are also a number of entries from students across the Southwest who are taking art classes via the Cyber School program, plus a number of home schooled students have items on display.
The School Art Show 2017 is showing until June 11 at the Airman's Billet H-Hut at Kinetic Park. Viewing hours are 1 p.m. to 5 p.m. on Friday, Saturday and Sunday, as well as on Victoria Day.