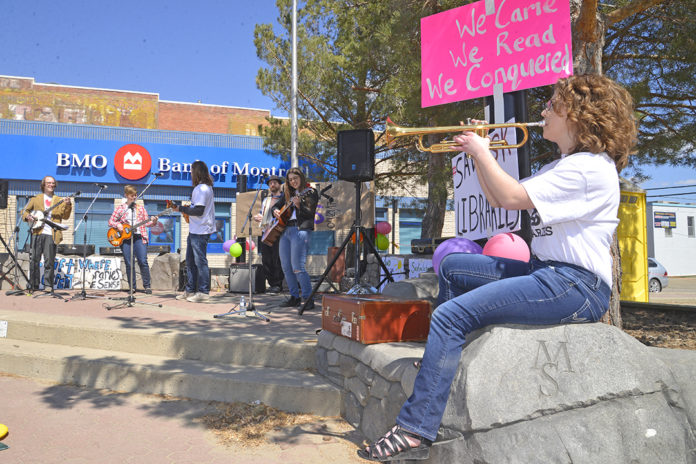 A party was hosted in downtown Swift Current on April 29 to celebrate the restoration of funding to Saskatchewan's library system.
Saturday's 90 minute celebration featured music, a series of speeches, appearances by Shimmer the Donkey and Talla from Read to a Dog, plus a group Story Time reading by Anthea Loran.
The library supporters gathered in Market Square on Saturday were in a significantly different mood than they were back on April 7 when Swift Current was one of 85 communities holding a 'Drop Everything And Read' rally as part of a province wide effort by Save Our Saskatchewan Libraries calling on the provincial government to reverse their funding cut to regional libraries. A crowd of over 200 people attended that April 7 event, and province wide nearly 6,000 people rallied in support of restoring full funding to libraries.
"We're just very relieved and ecstatic. But I think we're all still in shock at what has happened because we almost lost our library system," Swift Current Branch Library Manager Andrea McCrimmon said during Saturday's celebration.
"We're just thankful that the community pulled together and advocated for libraries. I think this is a perfect example of democracy in action."
Saskatchewan libraries were facing an uncertain future when the provincial budget axed $4.8 million, or 58 per cent, of funding to libraries across Saskatchewan. The impact to the Chinook Regional Library system was a $420,000 reduction, and layoff notices were being prepared for 100 employees across the region before the funding was restored.
McCrimmon expressed her appreciation for those who pulled together for the library system they care about so much, and their show of support was a reaction not seen locally for a number of years.
"I think it was a really important moment in the history of Swift Current, and a very powerful moment – gathering outside of Premier Wall's office to say Save Our Libraries. And we're very thankful that he did listen to that."
Joseph Naytowhow, an Aboriginal storyteller who now lives in Val Marie, shared a victory song and expressed his appreciation for the library funding reversal. He told the audience that he used to read a lot of books from libraries to help him make sense of the world.
"I read books that had meaning for me in my life. I'm really glad they re-funded the libraries."
"The storytelling tradition is just as powerful and strong as the library tradition."
Parent and library user Janelle Digney shared that she has been a life-long user of libraries, starting as a child and continuing during her university studies.
"I still go to the library to get books, but I also go to the library for baby and toddler programs and family events. And it wasn't until I started going to those events that I realized all of the other programs that the library offers."
"It dawned on me that people who don't regularly use the library might not realize the broad range of programs and services our libraries offer."
"Libraries are definitely places where we can access information, and that's a vital role that they play. But they're also safe spaces where community members can gather to learn different activities and share ideas and meet new people. And that's why it is too simplistic to say that if we don't have libraries people can just read books online. Libraries offer so much more than that. And access to information and access to safe spaces are two of the many reasons why libraries are so valuable."
Newly elected Saskatoon Meewasin MLA Ryan Meili spoke to the audience about the public action which pressured the provincial government to re-examine their funding decision.
"It has been so exciting to see the response," Meili said. "It has been discouraging and upsetting to see the type of budget that we've been given, the unnecessary decisions that have been made that hurt people, that worsen the quality of our life."
"When you look at some of the things that have been cut: schools and classrooms; libraries; in healthcare – podiatry, hearing aid program, even spiritual care in the hospitals; the STC – and our ability to get around, especially to some of the smaller communities, and especially for people with less money. These are things that impact our health. It's not all about hospitals or doctors, its about that whole package of what we provide as a society to allow us to experience the best that life has to offer."
Meili said it has been encouraging to see the turnout at rallies and people standing up for what they think is important in their communities. The restored funding is a reason to celebrate, but it also serves as a reminder of what is possible when voters stand up against cuts to important services.
"This is only the first step. That there are going to be rallies for STC. There are going to be rallies to restore funding for funerals for people who die on social assistance. All of these things that are just part of decency. Part of giving people the quality of life they need and deserve," Meili said.