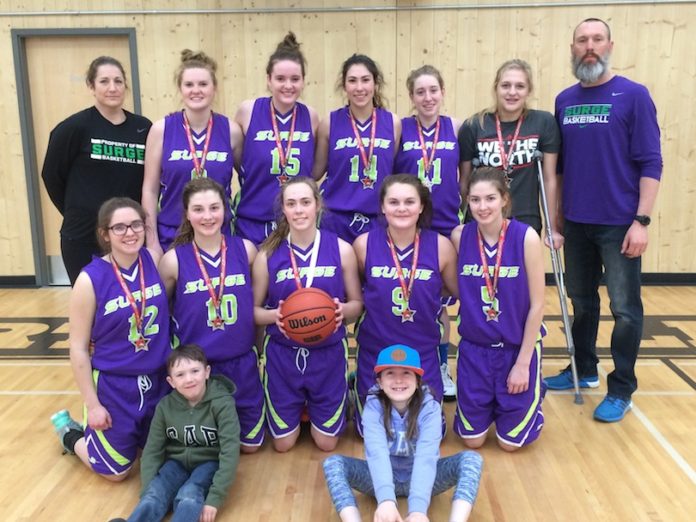 The Swift Current U17 Surge basketball team won silver at the six-team Prairie Season Opener in Saskatoon to open their season.
The Surge won their opener Friday 60-55 over the Saskatoon Soak when they trailed at halftime before holding their opponent to two points in the third quarter.
The Surge, coached by Megan and Adam Jackson, followed up with a 46-31 win over the CLS Badgers. The Surge lost a player due to injury in warm-ups and played with only six players. The team was able to get defensive stops early in the fourth quarter to prevent the Badgers from climbing back into the game.
They added a 62-48 win with only six players over the Northwest Wildcats. The game was close at halftime but the Surge were able to get the ball into the key in the second half for some inside baskets.
The Surge got reinforcements for their third game of the day but lost 50-47 to the Lakeland Junior Rustlers when they ran out of gas late.
They rematched with the Rustlers in the gold medal game and lost 51-40. The Surge got out to a good start and led 27-23 at halftime but managed only 13 points in the second half. They had open looks from beyond the three-point arc but were unable to knock them down and struggled to rebound, while the Junior Rustlers were able to score off second chance opportunities.
The Surge will return to action on May 19-20 in Lethbridge.