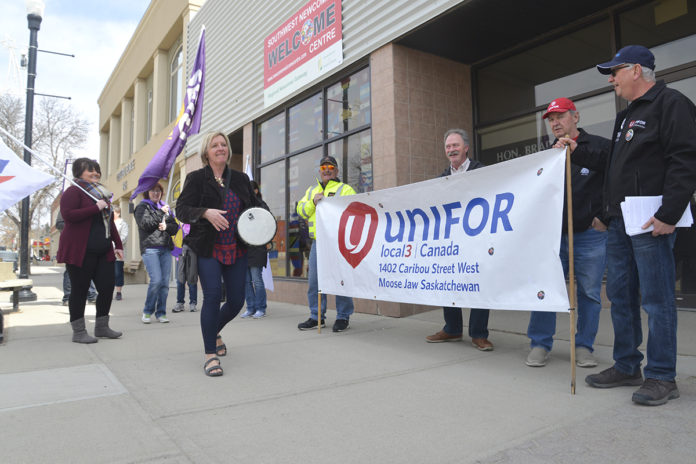 A small but vocal gathering was held in front of Premier Brad Wall's Swift Current constituency office on April 21 protesting both the impact of budget cuts and the potential implications of privatizing the Crown Corporations.
Approximately 30 people attended the noon hour rally last Friday, with the impact of provincial government budget cuts the main focus of the rally.
Neil Colmin, Vice President SEIU West in Moose Jaw, noted that the SaskParty began talking about transformational change one year ago, but after not mentioning it during the last election campaign, they then put everything on the table and made significant cuts.
"In last month's budget, we saw deep cuts. Mean, spirited cuts, targeted at services and programs that people rely upon daily."
He pointed to the financial impacts being felt right in Swift Current. The Chinook School Division was stripped of seven per cent of its funding, taking a bigger cut than any other school division in the province. They have since issued layoff notices, and they admit more service cuts are planned. The City of Swift Current received a $780,000 cut, a reduction of 23 per cent that will also impact city services. There are also significant impacts in the Cypress Health Region as the province moves towards operating as a single provide-wide health region.
"Will the school system be responsive to the unique needs of your family, and the unique needs of your community? And will the health system still be publicly run, publicly funded, and not for profit? For me, the answer to too many of these questions is 'no'," Colmin told the crowd.
"Together we need to demand more from our elected officials. It's our responsibility to share our concerns about the lack of meaningful public consultation in the process of monumental change. We need to identify clearly what our community needs, and demand and stop the cuts of valued public services."
"So these cuts, and all the shuffling and restructuring that's been done in the health and education sectors, are all part of this government's plan to change forever our attitudes and expectations about public services. How? By running them down, breaking them up, and selling them off."
Lorne Hill, Chief Shop Steward, UNIFOR Local #3 in Moose Jaw said the budget cuts are bringing significant negative impacts to many sectors.
"They are taking advantage of people and putting them in precarious situations where their livelihoods and the very fabric of their communities is under attack," Hill said.
He argued that Swift Current residents should not be afraid to oppose the cuts simply because their MLA is also serving as Premier.
"I want to tell everybody in Swift Current and the Premier's constituency today that the people of Swift Current don't have to be afraid, they don't have to take this, and we will stand with them every step of the way."
"This is not about union people versus farmers. This is not about oil workers against labour. This is not about us standing apart. This is all about the ability of Saskatchewan people to be resilient, stand together, and understand that when enough is enough we'll stand with oil workers, we'll stand with farmers, we will stand with everybody in the province of Saskatchewan to get things turned around so that we can get on with life the best way that we know how."
Friday's rally came on the heels of a Thursday evening Town Hall meeting discussing the recent changes to Bill 40, and the potential implications of privatizing the Crown Corporations.
Kim Wilson, President of COPE Local 397, said the province is overlooking the importance of Crown Corporations to all Saskatchewan residents.
"We realized after the budget then we really had to step up the game," Wilson said. "STC is a major, major setback for the province of Saskatchewan. Especially for those lower income, our seniors…300 cancer patients are not able to have transportation to and from their treatments now until things straighten out."
"The effects to schools. Education cuts are devastating."
Swift Current's Town Hall meeting was the 13th in a series of province wide meetings to raising concerns over Bill 40, and the privatization efforts which are occurring.
Wilson also raised the concern over the provincial government's efforts to re-open collective agreements in order to clawback wages.
"When we bargained that collective agreement it was in good faith with the current government. We should have been fit into the budget for our collective agreement. They shouldn't be asking us because they had poor mismanagement of funds to take back from our collective agreement. So we're fighting that one tooth and nail. We're saying no. We'll see them at the bargaining table," she said.
"We have a long, hard struggle ahead of us. But this province just has to remember that together we're stronger. And we all need to band together in solidarity and stand up to the government and say 'no', 'no more'.