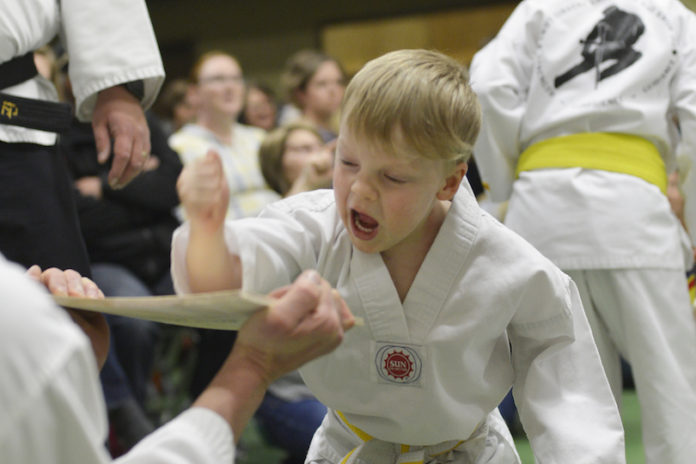 The members of the Swift Current Christian Tae Kwon Do club continue to punch above their weight with their Breaking Boards, Breaking Chains fundraising efforts. The club set a new fundraising record with $12,000 raised for International Justice Mission.
The fundraising effort culminated Saturday when the club got to show off their physical and mental strength by breaking boards in a variety of manners.
"We break the boards as a sign of strength obviously," said Gary Voysey, Swift Current Christian Tae Kwon Do Chief Instructor. "Because a normal size board it is the equivalent of a human bone, so I think for a younger student to be able to break a board confidently, they walk away feeling pretty darn good. The chains, once again just the symbolism that we are helping to break those chains of slavery and human traffic."
"Fundraising-wise it has just been another record breaking year," said Voysey. "Last year we raised $9,600, so our goal was to raise $10,000 and we are over that now. Without counting what we are raking in now, this morning we were at $10,500. It just keeps piling in, which is awesome."
Autumn Gelowitz was recognized Saturday as the top individual fundraiser, while the Hir family were recognized as the top fundraising family.
Swift Current Christian Tae Kwon Do had raised approximately $23,000 over the previous three years for IJM, which currently has ongoing operations in Cambodia, the Philippines, Thailand, India, Kenya, Rwanda, Uganda, Zambia, Bolivia, Ecuador, Guatemala, the Dominican Republic and Peru. This year, funds raised will be put toward the rescue and recovery of child sexual assault victims in Bolivia.
Voysey's club has shown no signs of slowing down in its fourth year of raising money for IJN.
"Because in martial arts we are supposed to be champions of freedom and justice, not just in our own community, but around the world, I think our club in particular has really bought into that ideal. They are really trying hard to make a difference in not just this community, but in other communities as well. It has just been an awesome blessing for our club and Swift Current, and in this case, IJM and those kids in Bolivia," said Voysey.
With the help of financial donations, IJM investigators, lawyers and social workers are able to intervene in individual cases of abuse. In Bolivia, the dismal odds of getting justice stop many families from ever trying, especially those living in poverty. Courts are backlogged and the average case takes three to seven years. In the seven years before IJM opened an office, courts issued fewer than three convictions a year for child sexual assault. But in their first seven years located in the high-altitude city of La Paz, IJM has secured more than 50 convictions against rapists and violent criminals.
Swift Current Christian Tae Kwon Do was established in 2012 in Swift Current and currently provides strength, confidence and guidance to over 110 members ages four to 62 each week through various classes. For more information, visit christiantkd.com.
Saturday's event took place with the support of Great Plains College, Trailview Builders, Tim Horton's, Sunset Gourmet, and the Church of the Open Bible.