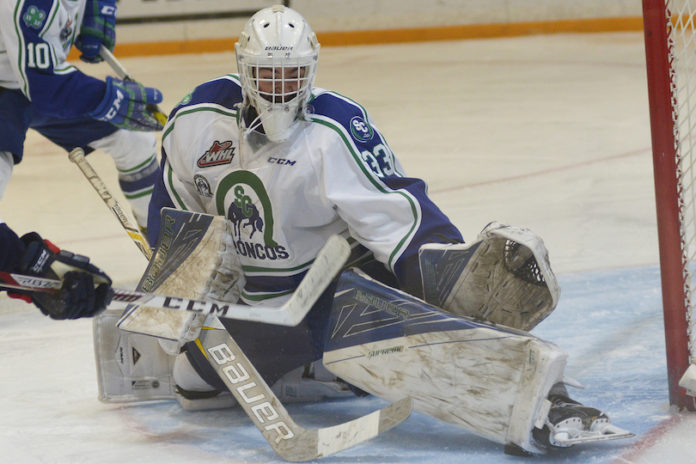 They only combined for 96 games in a Swift Current Broncos uniform, but three overage players will remember their time in Swift Current fondly.
Jordan Papirny, Ryley Lindgren, and Ryan Graham all concluded lengthy Western Hockey League careers with productive stints in Swift Current, helping the Broncos to a 39-23-4-5 record in the regular season, before upsetting the Moose Jaw Warriors in the opening round of the playoffs. The Broncos pushed the Regina Pats, the top ranked junior team in the country, to game seven before being eliminated in the second round.
"I mean it is pretty emotional obviously," said Lindgren after a 5-1 game seven loss in Regina. "It is not the way we wanted to go out, but I mean we are definitely really proud of the group we have in there, the character we showed. We didn't come as hard as we wanted tonight and they ended up being the better team. Kudos to them and good luck to them in the rest of the playoffs."
"I think we definitely need to take some time and look back at what a successful season we had," added Papirny. "I think before I was here, just from day one no one really gave this team a chance. We battled all year. From the time I got here and just seeing what a great group we had and what character we had and the resilience we had in the room was unbelievable. I am just really proud to finish my career as a Swift Current Bronco."
Graham was a spectator for the playoffs after his WHL career was ended by a knee injury. "I am proud of the guys. I think they did great. I think they worked as hard as they could out there and they put together a pretty good run. It was special to be a part of nonetheless," he said.
The Broncos exceeded most expectations by advancing to the second round and pushing the Pats to the brink of elimination.
"I am so proud of the group we have in here," said Lindgren. "I wouldn't want to spend the rest of my career with any other group of guys, going to war and playing with those guys every day, coming to the rink, I really loved to come to the rink again. I had the best times of my life playing here with these guys."
"I think just we have a great team, that's plain and simple," added Papirny. "If we didn't have a great team it wouldn't have gone to seven games. We have a great group. We have a real resilient group and unbelievable character in that room. I can't speak enough about everyone in that room and that speaks to our on-ice performance for sure."
"We have really good camaraderie in the room," added Graham. "The guys are like brothers out there. We knew we had a very good hockey team. A lot of people didn't count us as a competitor out there, but I think we certainly proved some people wrong. We were just a really good, tight team. I think that generated into a good playoff run."
Papirny was simply outstanding while starting all 14 games in the playoffs, finishing with a 2.48 goals against average and a 0.935 save percentage. He had played his first three full seasons with the Brandon Wheat Kings before joining the Broncos at the trade deadline.
"Coming here in January you meet a lot of new people, a lot of new faces, coaching staff, and all that. But I think it is obviously going to be tough to say goodbye. More importantly, I am just happy I met everyone that played on this team. I met a lot of really good people that I am going to be friends for life with all these guys."
Lindgren was acquired from the Lethbridge Hurricanes prior to the trade deadline. He led the Broncos with eight goals and 15 points in the playoffs.
"Yeah it was the best junior hockey times of my life here in Swift Current. Definitely last summer coming into this season I wouldn't have expected this for sure. I wouldn't change a thing and I have no regrets this year and definitely proud to finish my career off as a Swift Current Bronco."
The Broncos, under the leadership of first-year head coach Manny Viveiros, won their first playoff series since 2008 and were only one win away from advancing to the Eastern Conference final for the first time since 2001.
"All the credit goes to Manny and the coaching staff and everything they do for us and all the countless hours they have and how they believe in us. I think that is definitely huge and I think that is definitely what drove us," explained Lindgren. "The way how he [Viveiros] is calm and collected during these playoffs really helped us out and really helped us through the low moments and really helped us calm down from the high moments as well. It sucks we can't move a bit further and win for him, but it was a pleasure playing for him and for guys moving forward they have bigger things coming for this program."
"Oh unbelievable. He believed in me right from the start," added Papirny. "I owe him a lot for acquiring me obviously and giving me a chance to play every night. He is an unbelievable coach and a great mentor for our team. He has got nothing but good things to come for this team."
Graham suited up in 248 regular season games before being acquired from the Saskatoon Blades early in the regular season. He injured his knee in January, returned briefly for two games, but played his final game on January 22.
"It was hugely disappointing for me," said Graham moments after the Broncos game seven loss. "Only being in one playoff game in five years, when I got traded here the happiest moment was knowing that I was going to get to play in the playoffs. So obviously it really stung when I couldn't."
The 6'1'' forward from Calgary was only able to suit up for 21 games, posting 23 points, production that he hopes will help him play hockey professionally in the near future.
"I guess time will tell. But I definitely thought Swift Current was a great fit for me and I enjoyed the time I did play here. It was great and I am going to have only good memories of being a Bronco. I wish I could have been involved in some more games, but it was great."
Graham already had surgery on his injured knee and hopes to be back on the ice in a couple months. "We will have to wait and see. For next year, hopefully try and make a team with a tryout maybe in the fall and go from there."