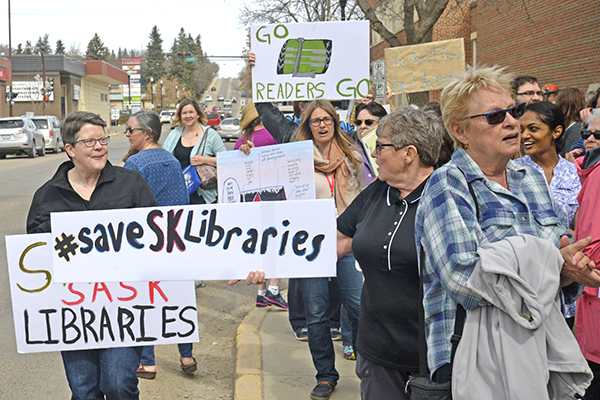 Libraries are traditionally quiet places, so fittingly a boisterous rally in support of restoring funding to Saskatchewan libraries took to the streets of Swift Current.
Swift Current was one of 85 communities holding a 'Drop Everything And Read' rally on April 7 as part of a province wide effort by Save Our Saskatchewan Libraries calling on the provincial government to reverse a $3.5 million cut to regional libraries.
A large gathering of library supporters participated in the noon hour rally in front of Premier Brad Wall's Swift Current Constituency office, and province wide nearly 6,000 people rallied in support of restoring full funding to libraries.
During the 2017-2018 provincial budget the province axed $4.8 million, or 58 per cent, of funding to libraries across Saskatchewan. The impact on Regional Libraries was a $3.5 million cut, while provincial funding was eliminated for public libraries in Regina and Saskatoon.
Dr. Jean McKendry, Director of the Chinook Regional Library told the rally that the funding cut will have a significant impact across the Southwest.
"In our region we figure we've lost $420,000 of funding," she explained. "The rally today shows the support that we've got here in Swift Current. And I know that there's rallies in Maple Creek, Fox Valley, Leader, Vanguard, they're all over our communities today. And it's really, really important that we send this message to the Minister of Education."
Andrea McCrimmon, Manager of the Swift Current Branch Library, noted $4.8 million is not a large amount for the provincial government, but Saskatchewan Libraries do a lot with that funding.
"Our message to the Government of Saskatchewan is that Saskatchewan Libraries matter enormously to the people, and that funding must be restored."
A focal point of the rally was gathering support behind a petition asking the Minister of Justice to put a plebiscite question to the voters of Saskatchewan. The petition wants provincial voters to be able to vote on the question "Should the Government of Saskatchewan maintain provincial funding for public libraries in Saskatchewan, at least at 2016 levels, indexed for inflation?"
The petition needs 15 per cent of Saskatchewan's electorate to sign in support for the petition to be valid.